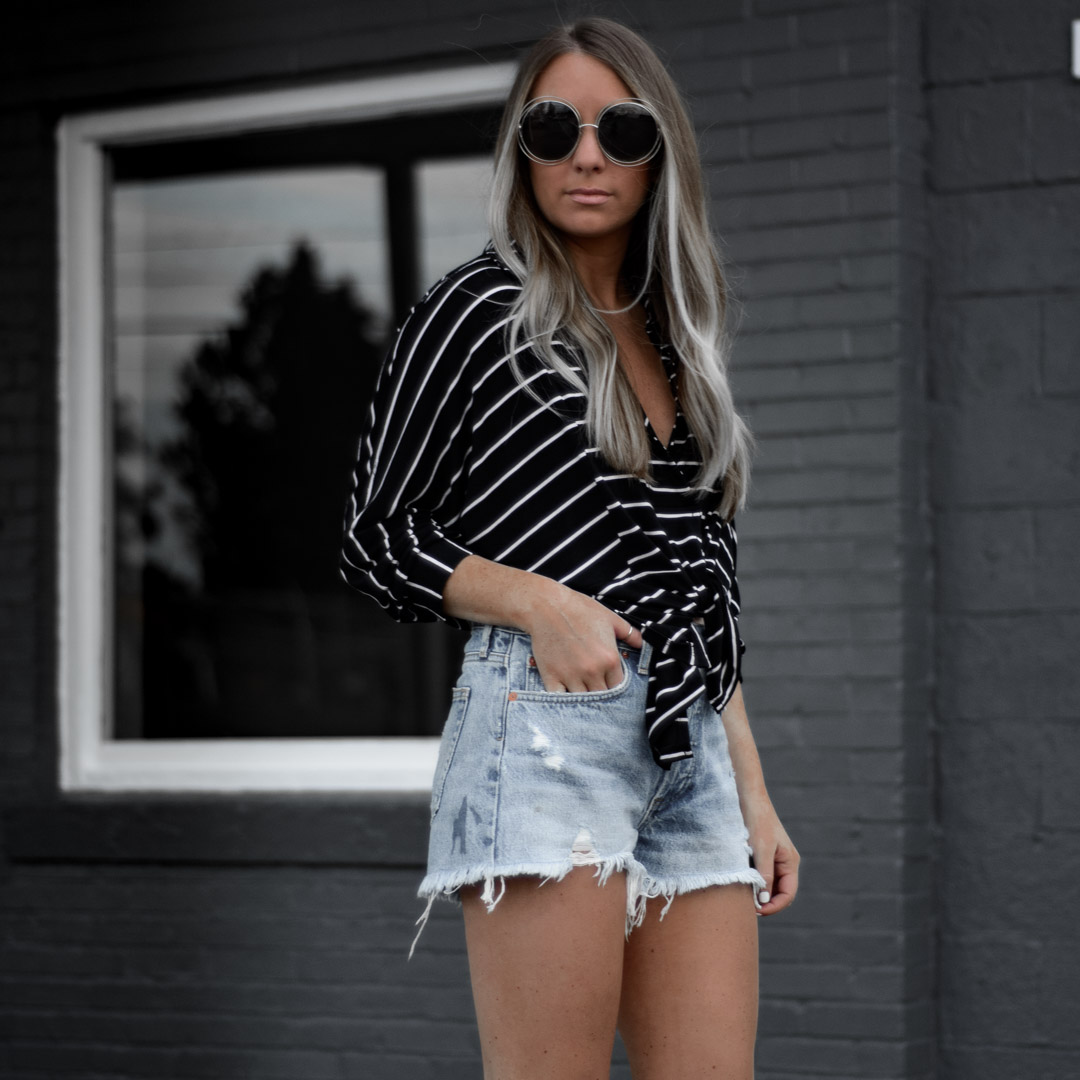 This stripe top is such a great transitional item to buy and I could not be more excited to share two different ways to wear it with you all!  Trust me, this is one item you do NOT want to miss out on!
I was doing some searching for tops that I could style for you all now that would also prove to be a good buy come spring/summer and as soon as I saw this stripe number I hit add to cart.  OBSESSED!  Let me tell you, this is one of those items that is even better in person too because the material has a super soft and luxe feel.  I could not love it more.  [wearing xs]
I went for the black and white version (shocker, right??) but there are also two other color combos to choose from.  The most unique part about this top is how it is only attached in the middle.  This gives you the option to wear it several ways.  If you just throw it on and wear it plain or you can tuck part of the front in or you can tie the ends together in the front.  All are stylish because of the cut of the shirt–the collar, deep v and 3/4 sleeve give it so much shape.
This top would be perfect to bring on a spring break trip because you can wear it over a bathing suit during the day and it would also work as a cute top when you head to dinner at night.  Never underestimate how handy a versatile top can be!
&&, on to the shoes!  These newbies are going to be on heavy repeat.  Trendy, comfortable and wearable–say no more.   Right?? I love a good platform shoe for spring because they are easy to walk in and can be worn with jeans, skirts, dresses and shorts.  The large dome studs are everything!  [runs tts, wearing a 7.5]
I thought it would be fun to share some blogger secrets with you all too today!  Nothing here is really top secret, so maybe I should say behind the scenes rather?  Either way… I always love to see behind the curtain of other peoples jobs so let me know if you are the same and find this helpful and/or interesting.  🙂
PHOTO SHOOTS
— Ethan takes all my pics and I try to do the majority of my shoots when we are on the way to something (or on our way home if we were close on time beforehand).  For example: If we are going to dinner with my dad or brunch with Ethan's fam, we try to pull off somewhere on the way there and snap a set of photos.  This way most of my outfits are authentic, something I would actually wear in my real life.
— If we do have to shoot several looks at a time, I just change in the car.  Really glamorous I know.  If we shoot in a remote area (like on the outside of a warehouse) Ethan will put some music on and leave the doors of the car open to make it a bit more fun.
— 9 times out of 10, if we shoot on the weekend I don't have any eye make up on underneath my [often oversized] sunglasses.  Just keeping it real with you.
— I love to shoot on bright days (sunny or cloudy, just not gloomy if that makes sense) but I always want to be completely in the shade
EQUIPMENT
— Camera: We shoot a lot of the blog pictures with our Nikon but we bought this smaller Canon camera last fall for traveling and vlogging and I LOVE it.  It takes great pics and it has wifi so I can send them right to my phone and upload to IG if I want!  Best purchase!
— Hard drive: We had a cheaper external hard drive before and it got dropped and we lost almost everything on it.  SOOOO sad.  We're talking video from fashion week and my bday trip to Toronto, the list goes on and on.  This one is more sturdy and reliable.  We keep everything stored on it so our editing program and computer aren't full.
— Octopus: When Ethan ordered this I thought he was crazy but it comes in so handy!  You can use it to hook your camera anywhere.  I do this when filming for YouTube and we've done it for some self timer shots when traveling.
— Box Lights: These are so helpful when doing any sort of photo or video shoot indoors.  We don't have much natural light in our house (unfortunately) so when Ethan ordered these for us it helped a lot.  I tripped over the cord of one last week while carrying a chair and shattered a bulb.  Lovely.  So if you do order these, try to be more careful than me. [insert eye roll]
EDITING 
— Lightroom: 90% of the editing on my photos is done here.  Ethan has made several presets so we always start with one of those and adjust accordingly.  If you don't have it make sure to download it for your phone if nothing else!
— Instasize: I like to use this app for the brighten and lux features.  Both can make a picture pop!
— FaceTune:  I use the whiten tool in the app to wash out the backgrounds of my photos if it was taken on my phone and the background is yellow-y.
— Snapseed:  This app is helpful if you just need to adjust the saturation or exposure of a certain area in a photo.  I use the brush tool.
— Camera+:  The only thing I use this for is to add a border to  my photo before uploading it to IG.  I use the "thin white" frame.
— VSCO:  I don't edit my pictures with this app at all anymore but I do use it to lay out my feed.  Disclaimer:  It is NOT the best app for this purpose.  I just used it for editing at one point in time so I already had each of my photos from IG added to the layout in there so now I just upload a picture in there still before I post it to make sure it is cohesive.  The idea behind this is helpful, but if you are just starting the process I would use a different app.
Alrighty, signing off!  Have a good one and enjoy HUMP DAY!
Top || Jeans || Shorts || Shoes || Sunglasses