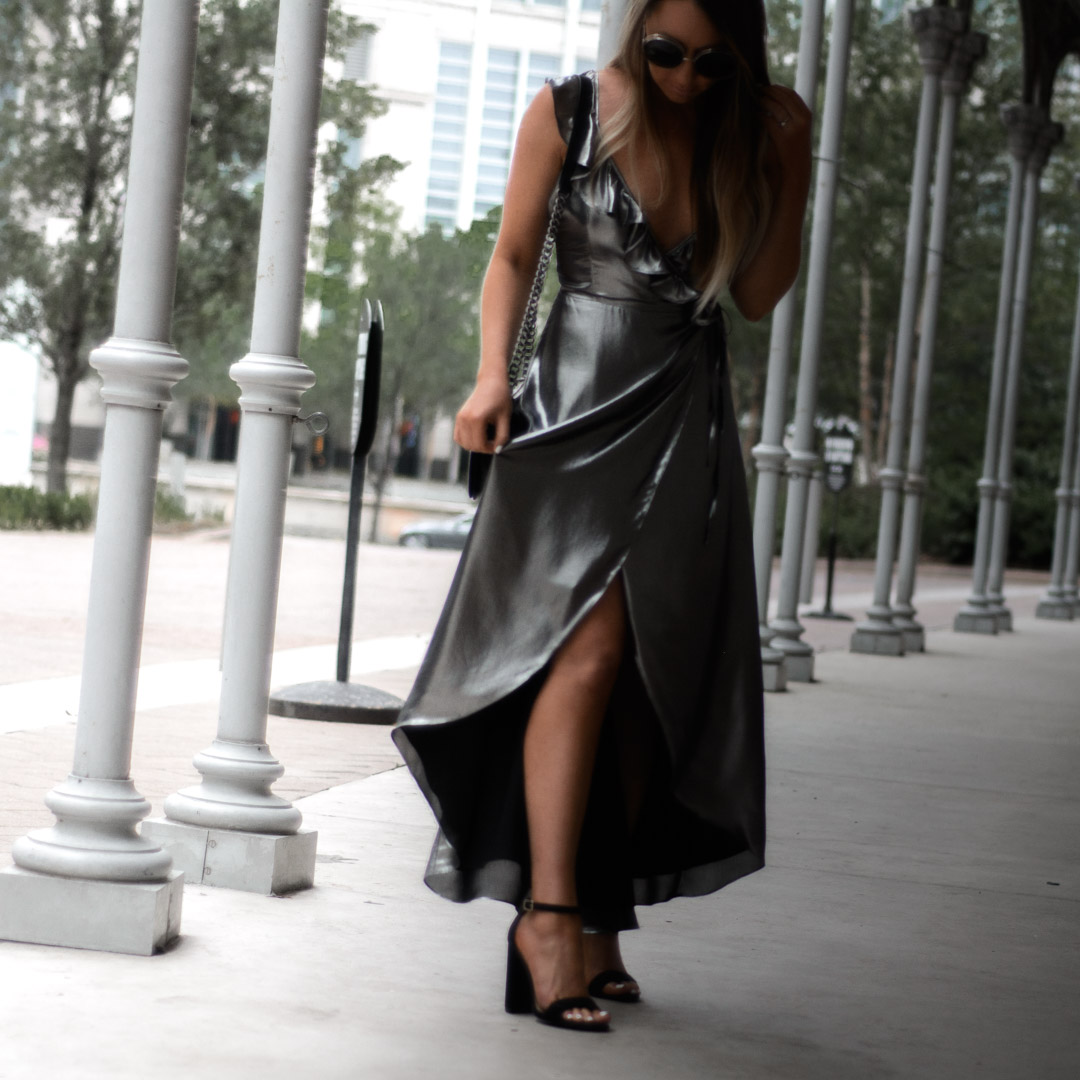 Yesterday I wrote a post giving the background on the RewardStyle conference and shared the schedule.  Today I'm going to share what I learned with you and give some detailed tips for attending the conference.
First off, if you missed the first post on #rStheCon then you can catch that here.
Tips for attending the RewardStyle Conference:
I hope you all find these rid bits helpful.  They would come in handy if you're a first time attendee and are also great pieces of advice to keep in mind if you're a returning influencer!
Fly in early.  If you have flexibility in your schedule then go ahead and book a flight that arrives early on Thursday.  rS doesn't plan for things to start until around 2pm but you'll be happy to not be rushing like crazy to get ready.  The hotel will hold your bags if you are super early and can't get in your room yet.  We did that this year and just went to explore Dallas and grab coffee in the meantime.
And on the same line of thought, leave early on Sunday.  Again, if your schedule has flexibility then book the early flight.  The Saturday night party is a ton of fun so you may not be going on much sleep, but trust me you will be so ready to get home!  The sooner the better at that  point!
Fly into whichever airport in Dallas is cheaper.  DFW is not the closest, but it is only like a 20 min uber ride.
Wear comfy shoes during the day, save your cute but not practical heels for the evening parties.  You will spend plenty of time on your feet at night so if you want to work sneakers or wedges or flats into your daytime looks then I think that's totally fine!  I wore Golden Goose sneakers on Friday and Marc Fisher platforms on Saturday.
Make sure you have plenty of business cards and media kits with you at all times during the day.  You will not need these during the parties but you will want to give them to brand reps during the day at meetings and in the brand hall.  My media kit had collaboration options on it but not pricing, just FYI.
Don't be shy.  It's time to introduce yourself to whoever you are sitting near or standing around!
Talk to as many brands as possible, even ones you're not matched with for a one on one meeting.  You never know which one you may have the opportunity to work with in the future due to a conversation you had.
Find holes in your schedule and fill them by going to the brand hall to chat and connect.  (see prior bullet for the why to this tip, haha)
Don't be afraid to dress like you. You are your brand.  It is easy to get caught up in what other influencers wear at a large event like this but at the end of the day you will only be happy with your outfits if they are true to your own style.
Try to sneak away and grab a coffee or late night dinner in Dallas just to get away from the hotel.  In the past I have not done this and I was sad that I left a cool city and did not get to see any of it.  This year we made sure to venture out and explore some!
Make an effort to do your hair and make up at the beginning of the day. This way if you run close on time before the party you can just freshen up.  For me, it is easy to think 'oh, I can just add curls to my hair later' but odds are there won't be a later because you will be rushing to change and get a pic before you head to the party!
Be present.  Trust me, I know how easy it can be to be on your phone–especially when you truly have something you have to post, etc.  Just make an effort to listen and get the most out of your time there.
Fit in some face to face time with your rep. It's a busy weekend so this isn't always easy but it's so nice to have a few conversations in person so you all can better connect and they can be better equipped to help you.
Make sure to shoot your outfits in full. You'll spend lots of time and money prepping your outfits so you want to get more out of them than just an IG shot. I did not do this in the past and really regretted it. You'll see a detailed post on all mine on the blog this year. [coming soon!]
Ask for business cards. A lot of brands did not hand these out this year (which was very disappointing and upsetting) but if you can get a hold of one it's always nice to have a contact to reach out to.
Send follow up emails.  I am in the process of doing that this week!
Have fun and don't take the conference all too seriously. It can be an intimidating situation and it shouldn't be! We're all in this together and it should be fun to connect. Don't let it be stressful and don't let it be competitive! Enjoy!!
What I learned at the RewardStyle Conference:
Ok, now let's get into the reason why we go to the conference–to learn about things that will help make our blogs more successful!  I pulled all of these things straight from my notes that I took during the conference.
Brands value influencers who have a unique style and vibe and vision.  Don't try to copy someone else, it never ever works.
A couple of things that brands like to partner around: product launches and life events (such as spring break or coachella, etc)
Brands don't like to see you post something SUPER similar a few days later.  That is a sure fire way to not get the collab next time around.  Be honest with them about your editorial calendar and maybe you can work around it easily.
Beauty brands (especially) are interested in seeing their campaigns on YouTube.  People learn so much more from videos of products.
Lots of brands value micro (100k or less) influencers a lot.  They shared that it was because micro influencers could take time and get very specific on the details.
If you think that brands don't read the comments you get on paid posts then you are wrong.  Take time to respond to everyone who was nice enough to engage!
Timeliness and flexibility is really important from influencers.
Be open to the brands message that they want to share.  You can put your own spin on it but make sure their intentions with the product come across.
Don't combine sponsored content. (Side note, do people really do this?  Eek!)
Brands love to see people talk about WHY they love an item.
Videos and IG stories are huge and are as important as imagery.
Produce your content so it can be viewed and communicated with the sound off too.  Lots of people are watching IG stories with their phones on mute.
Oh this is a good one—DO NOT HARNESS YOUR HAPPINESS ON AN IG ALGORITHM! We all know that we've passed the good old days of instagram.  Their app is now out of the growth stage and has moved on the the monetization stage.  Instagram only allows around 11% of my followers to see my photos in their feed when scrolling now.  And that will only get worse.  Don't get hung up on it because you cannot change it!
You always have the opportunity to turn a NO into an ON!  Keep on trying even if you get the door shut in your face.  Maybe they will give you a different answer next time!  Kendra Scott shared this message with us.  She kept saying, "no is merely a suggestion"!
Sometimes things that are disruptive are effective!  Don't be afraid to get people's attention.
The LIKEtoKNOW.it app will never have an algorithm.  It actually started in the monetization phase and will therefore always have that focus.
Planoly is a great app to help you plan your IG feed and it also shows all comments coming in (even on older posts) so you can reply.
60% new readers and 40% returning readers should be your goal for your blog
The Miracle Time Cube is what Ashley Robertson from The Teacher Diva swears by for time management.
"If you're talking to everyone, then you're talking to no one" is a statement that Katey McFarlan from Chronicles of Frivolity takes seriously.  You should know who exactly who your reader is!
You should do film some videos for your IG story (think things like tutorials) ahead of time and save them.  That way you have something to post on days when you wouldn't normally have content.
The app Continual will allow you to film a video in one take and then it will split it up for you to upload to IG segments.
Make sure your IG story posts have a call to action in them.  People need a reason to swipe up!
Iconosquare will give you a completion rate for IG stories.  This way you can see who makes it all the way through your content.
Make sure you are following the rules and use the #ad when necessary!
The LIKEtoKNOW.it app is now available for android users!!
AND the LIKEtoKNOW.it app now has a new amazing feature.  When you click on my profile and look at one of my outfits you'll see photos of the products I am wearing below it.  When you tap on one of those items you will now have the option to add it to a wish list!  It will save these items to a wish list tab and you can come back to them at anytime.  Genius!
That was a long one–sorry!  But I really wanted to make sure you could get value out of this post even if you were not able to attend the conference.  I really wanted to share everything I know with you all!! If there's anything else you're curious about please don't hesitate to shoot me an email or message on IG. As always—I'm happy to chat and I love getting to know you all and I am an open book!
This is the dress I wore to the finale party on Saturday night.  How fun is this metallic?? I was loving it.  Since the dress was so extra, I just kept the accessories simple and black.  You will love the price tag on this one too–such a major sale! [wearing an xs]
HAPPY FRIDAYYY!