Dress || Tennies || Handbag || Sunnies || Suitcase || Watch
We just got back last Thursday from our trip and I have so many different blog posts to share with you all in the coming days!  [exciting stuff, so stay tuned!] First, I wanted to start off by giving you all a little background behind where we went and why first and then I also thought it might be helpful to include the details of what I packed.  Traveling can be tricky so I always appreciate it when other bloggers share what they actually packed when away from home.  Even though I might not be going to the same destination I usually find some sort of inspiration from their post and I hope you all can do the same from this!
Last September I remember wishing for days that felt like Fall so badly.  I was itching to order my coffee hot instead of iced and to throw on a sweater and scarf in cooler temperatures so Ethan and I decided we'd like to go somewhere a little chilly this year around that time.  We started throwing out ideas because I we both really wanted to go experience a new city together.  We thought about going out West, we thought about going to Prince Edward Island, but then we landed on Quebec City.  Ethan's parents had been there recently and had raved about it and once Ethan showed me some pictures I was sold!  [more on that later though, promise] And then there's Fashion Week.. It had always been a dream of mine to attend Fashion Week in New York and I thought this year might be a good time to dip my feet in!  We didn't have too much time to be away so in order to spend time in both cities we had to combine them into one trip.  We left Kentucky, headed to NYC for a few shows and then went from there to QC for a few days before coming back home.  It was SUCH a great trip–but let me tell you the packing was overwhelming!  I needed dresses and heels for NYC where it was hot and sweaters and boots for QC where it was chilly.  All in one suitcase!
side note: I was so excited we had a few minutes to head to DUMBO and snap these pics before heading to the airport.   I have always wanted to see this view on my visits to NYC and I can tell you now that it did not disappoint! 
AIRPORT
First off, a little disclaimer: When I got to the airport my bag was 3 pounds over the limit [eye roll].  I fully expected it because when Ethan lifted it into the car he said, "babe, this isn't going to make the cut" so on the way to the airport I started scrolling through things in head that I had in my bag that were heavy so I could switch something into my carry on.  I ended up pulling out my suede moto jacket just taking it on the plane.  So my first tip would be to weigh your suitcase before you leave the house.  That way you can do any rearranging at home.
I think my second tip would be to get a good set of suitcases that are hard on the outside and have 360 turning wheels.  I ordered this set earlier this year and they have been great so far!
For my carry on bag I always use my LV Neverfull but I think whatever bag you bring the most important thing is how you plan to keep everything organized inside.  I don't throw anything in my carry on loose.  I pack everything into smaller bags so I can find things easily and I'm not a mess going through security.  So for example I keep my phone charger, headphones and a hair tie in one little zipper pouch and I keep all my credit cards in another.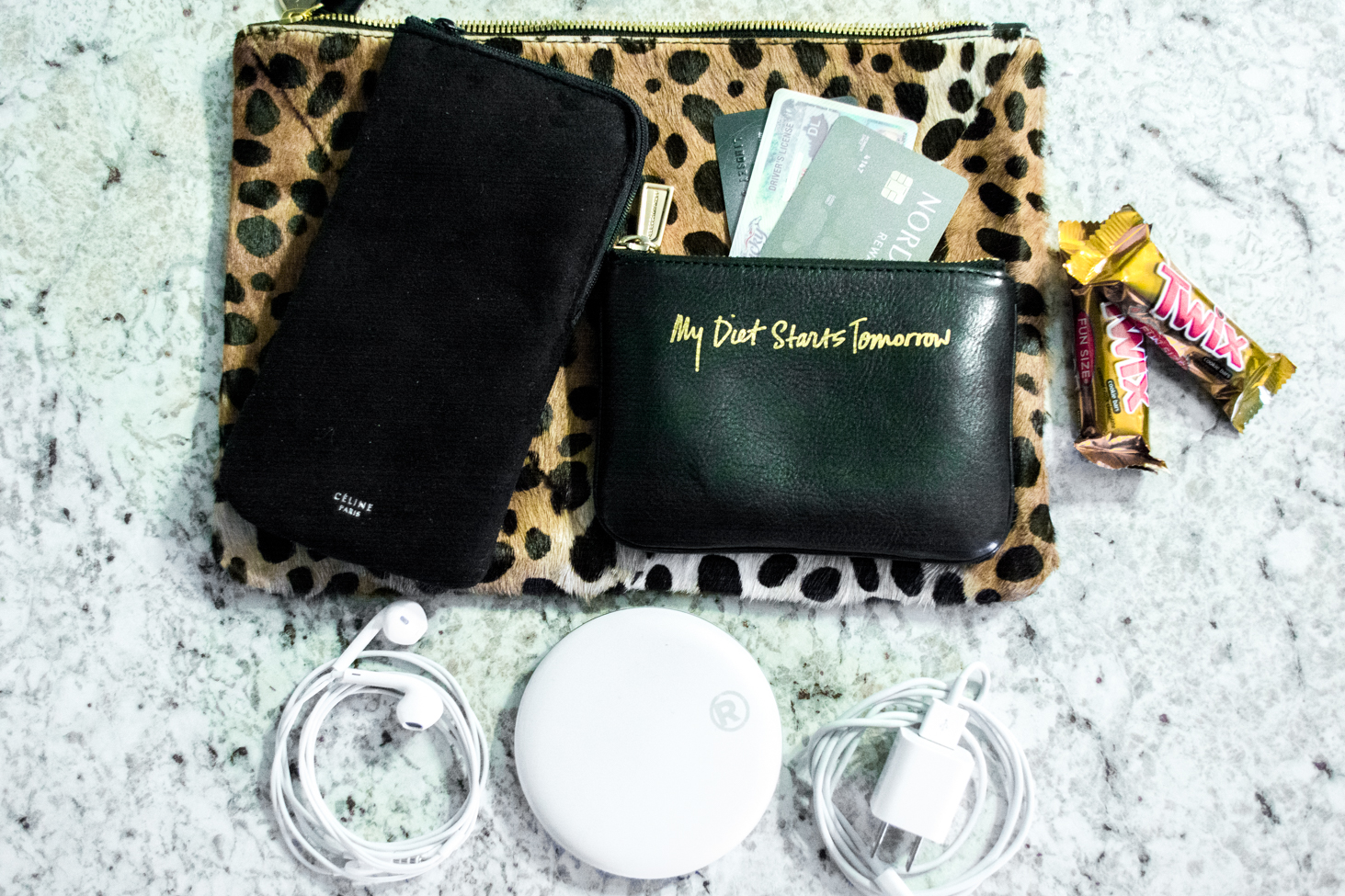 Here are a few of my fav zipper pouches (including my new spotted number that I love):

I always have my makeup in my carry on as well becuase I never want to chance it getting broken.  I do pull out any liquid items and put them in a little clear plastic zipper bag (like the one you can get at the drugstore with the little refillable shampoo bottles).  This way I can just pull it out easily and send it through security without any issues or hold up.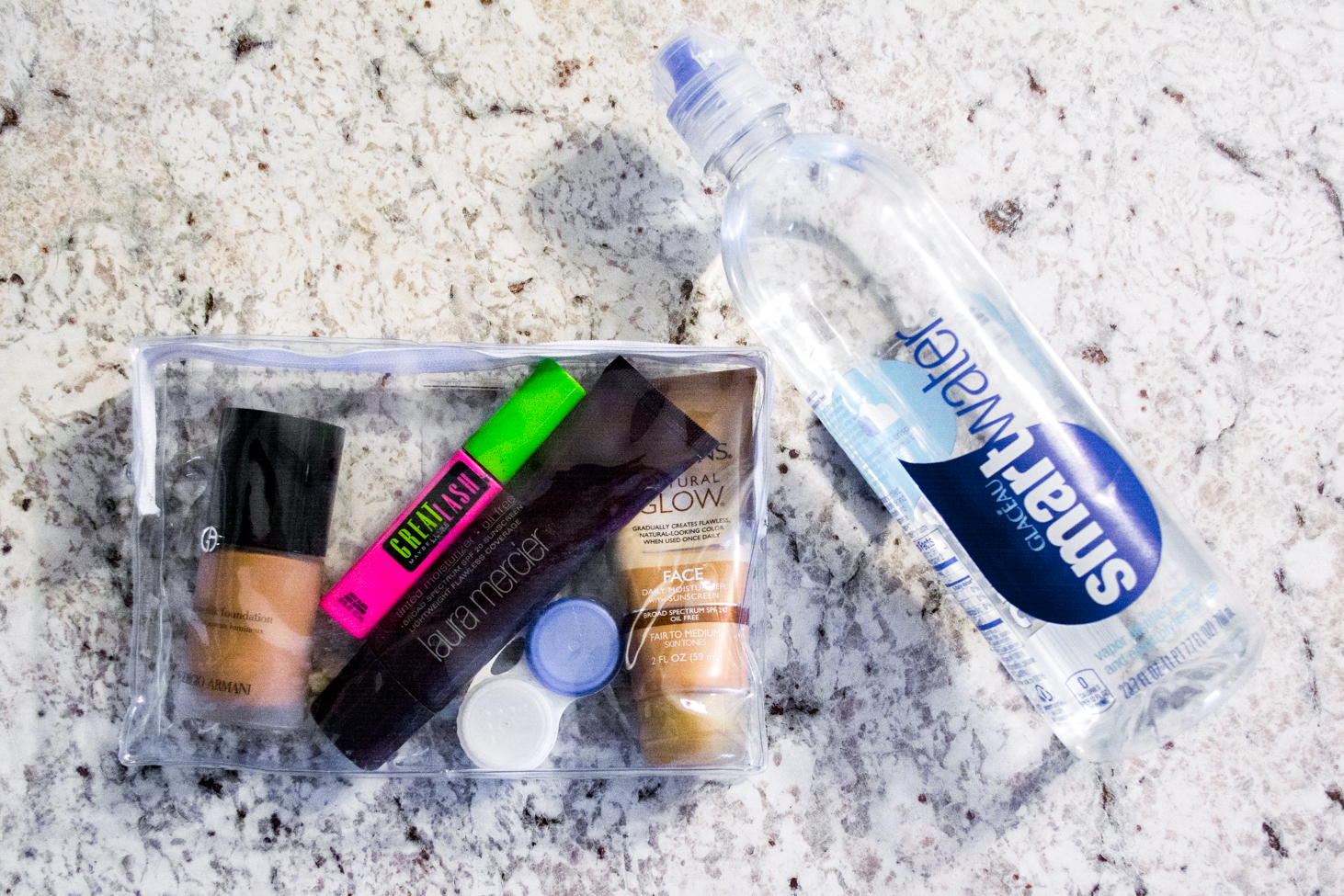 && lastly, I definitely recommend bringing a wrap with you so you can cuddle up with it on the plane.  No matter what time of year I fly, I always end up being cold on the plane.  I took this cashmere one with me on this trip and it was perfect–definitely worth it!  It's always nice to have something around you that is soft and you know is clean when you're surrounded by all the airport germs, ha!   I just found this one that I'm obsessed with and it's 30% off.  Here are a few other wraps that I think would be great too:

NYC
New York city was a challenge to pack for!  I knew I was ready to be wearing Fall items but I also knew it was going to be 90 degrees and sunny sooooo that poses a bit of an issue haha.  My solution was to wear items that had a summer cut (ie, sleeveless and short) but were made of materials and textures that were more geared towards cool weather.  Think suede, leather & light weight tweed.
You can shop everything I brought by clicking here!
I did grab a couple new pairs of heels before my trip and you can shop them here and here.  They are both great black options that are under $100.  Again, they have suede on them so I will be wearing them lots in the coming months.  I also made sure to pick super versatile pairs.  I know I will wear the pumps lots on date night with distressed jeans and the strappy heels will work great for any cocktail attire event (& with jeans–bonus)!
I also got the necklace you see below right before our trip and I wore it out one night when we snuck in a little time to celebrate my bestie.  She lives in NYC and just got engaged so we popped in fdsfa and got a bottle of champagne to share!  I wish I had snapped a picture of the necklace though because it's so cute–its a choker and necklace 2-in-1 combo!

But honestly the biggest tip I can give you is to carry your heels (I always had mine in a backpack Ethan brought) and wear a pair of tennis shoes!  When you arrive you to an event you can do a quick switch if you want.  Seriously, it is a necessity when walking around the city or popping back and forth between shows/events/dinners, etc!  Even when you don't think you are walking that much and even when you are taking Ubers around–your feet will kill you if you don't have some Adidas to slip on.  I wore mine around with this dress, this skirt and top and this romper and no one thought twice about it!
QUEBEC CITY
It was such a change in pace when we landed in Canada.  Everything slowed down significantly and the temperatures cooled down a lot (yay)!  Looking back on it, it might have worked out better to do this part of our trip first and NYC second just becuase we missed out on several invites in the city for Fashion Week  but I know it would have been really hard to do the trip the opposite way.  It was so nice to have a relaxing vibe in QC after bustling around NYC for a few days! I got to wear leggings and these tennies every morning with a sweater when we ventured out for coffee and I loved being able to throw on a scarf at night!  The streets were all cobblestone and we rented a moped so I limited my shoes to comfy ones and kept my outfits cozy and easy.  Here are a few of my favorite items that I wore:

Shop everything in my suitcase for the trip by clicking here!
Stay tuned for more details of what we did in both cites!  && per usual, thanks for reading and following along on our travels!