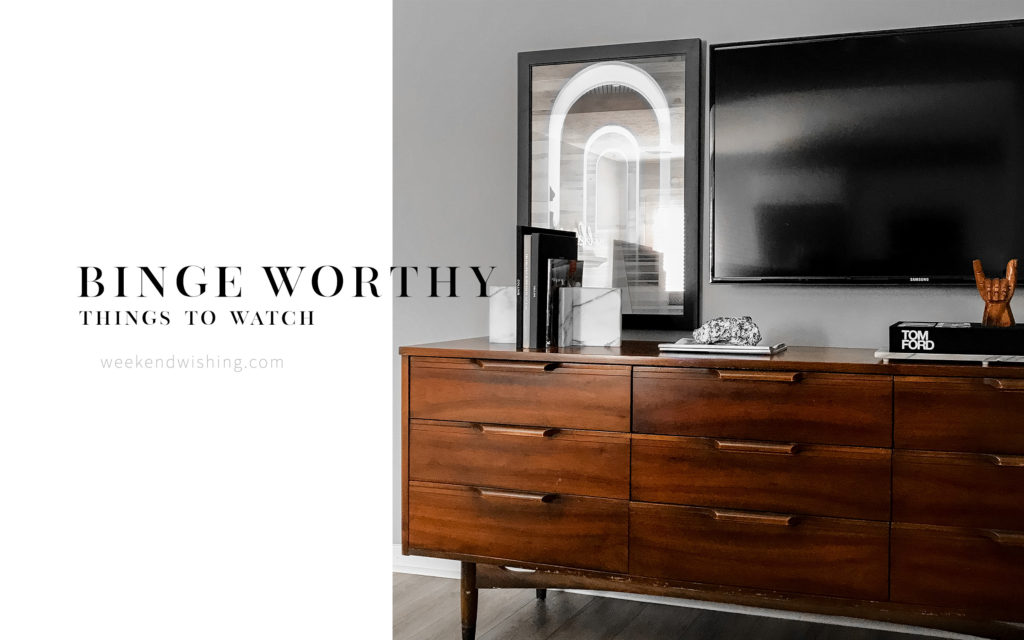 Since we are all staying at home right now and doing our part to stop the spread of COVID-19, I figured I would share a list of some tv series, documentaries and movies that I recommend. This is not a comprehensive list of my all time favorites, but rather just watches that are top of mind for whatever reason right now. Hopefully this will give you something new to binge or will spark an idea of something that sounds good to re-watch! Enjoy!
DOCUMENTARIES
LADY GAGA FIVE FOOT TWO
one of my favorite documentaries. definitely one i have rewatched a few times. really gives you a look into gaga's real life and moments leading up to her super bowl performance and the making of her jolene album.
7 DAYS OUT
there's only a few episodes of these. i wish they would do more. it gives a behind the scenes look at the week before a big event. my favorites are the eleven madison park episode and the chanel show episode.
MCMILLIONS
we just watched this one recently. it's interesting! especially if you are not familiar with the scandal behind the mcdonalds monopoly scandal. an eye opening look into how the mod functions. the snitch is revealed in the last episode so be sure to try to guess who it is throughout the documentary.
THE PHARMACIST
the beginning of this is a little slow but it picks up and becomes a story worth watching about the drug scene in louisana. not one i would watch again, but i included it here since it was one we just wrapped recently.
CHEER
highly recommend! this one is such a fun watch! it follows a college cheer squad throughout their season before their big yearly competition and some of the members are such characters. i know the competition got cancelled for 2020 because of covid-19 but i hope they share a season 2 regardless.
THE FIRST MONDAY IN MAY
i have watched this one several times. it shows just how the met ball comes together and details one of fashions biggest evenings!
FRANCA
this is actually on my current "re-watch list" because i would like to see it again. great fashion documentary and very interesting!!
ALEXANDER MCQUEEN
another good fashion doc. this one does have a heaviness about it but it is so neat to see mcqueens work and shows piled together. really gives you a good idea of just how talented he was and how out there his art was. i watched this on the plane on the way back from our honeymoon.
THE DISAPPEARANCE OF MADELEINE MCCANN
this is a mystery that i have not stopped thinking about since we watched it. it is frustrating because there is not much evidence to actually share but what happened is just such a mystery. i would love to hear what people thought about this case at the time that it was actually going on…
ABDUCTED IN PLAIN SIGHT
ethan watched this one before me and told me i had to take the time to see it too. so i did. it is NUTS. like really nuts. my jaw dropped a few times.
CHIARA FERRAGNI: UNPOSTED
i am low key obsessed with chiara so one sunday i watched her documentary. it's worth watching but is very obvious that it is something her team put together.
FREE SOLO
this one did make me nervous watching–it's about a rock climber who doesn't use ropes–but it proved to be such a good one to see.
AVICCI: TRUE STORIES
a sad one but it was so cool to see just how talented he was.
YOUTUBE
ARCHITECTURAL DIGEST OPEN DOOR
i love, love, love watching these videos on the AD channel. these are the ones where a celeb walks you through their house and shares the interiors and details with you. one of our favorites is the aaron paul house.
JUSTIN BIEBER: SEASONS
i have been a huge bieber fan since day one so i'm sure i am biased, but their seasons documentary is so good. he's insanely talented and she's drop dead gorgeous.
THE SEPTEMBER ISSUE
this movie is GREAT and the whole thing is available right now on the youtube movie channel to watch. i just watched this again this week as a background show. it takes you behind the scenes at vogue and shows you just what goes into the making of their infamous september issue each year.
JAMES CORDON CARPOOL KARAOKE
we love to watch these episodes on a friday evening with a cocktail. they are funny and it's cool to see the artists personality. my number one is the adele episode and we also love the bruno mars, justin bieber and billie eilish.
RETRO FLAME
this is the channel of one of the bloggers i love to follow. she's irish but lives in nyc and does a good mix of vlogs, interiors, shopping hauls, luxury reviews and travel content. her videos are ones that i watch while having lunch or something.
ALYSSA LENORE
another blogger that i follow from nyc. the youtube videos i watch are her luxury handbag reviews.
BRENDAN FALLIS
i don't watch all of his videos but he and his wife recently bought an amazing place in new york and are in the process of renovating it. they are documenting the process and i am definitely following along!
VOGUE 73 QUESTIONS
i particularly watch the ones that feature anna wintour. i love hearing her answers because a lot of times they surprise me. this is another good one to have on when you are taking a lunch or computer break. they are fast watches.
MOVIES
THE HANGOVER
so clearly i haven't really been in a "movie mood" lately (hence only three random suggestions, haha) but we did watch the hangover for the thousandth time last friday night and it was a solid choice. my advice is to go for one of your old favorites that's a comedy for a weekend date night in.
WEDDING CRASHERS
same thing applies here. we also recently went for wedding crashers because it's such a easy watch. feels good to laugh and forget about the virus and uncertain times we are in right now. highly recommend!
PARASITE
this is one we watched a while back but i had to include it here because it is such a good watch. one i would suggest for sure. it won big last awards season and deserved it! the ending shocked me. i would give this one a watch even if you have to pay a higher price to rent it.
TV SERIES
THE MORNING SHOW
good. good. good! there's only one season of this one out but it's one that you definitely need to watch if you have apple tv access. jennifer aniston gives a great performance and the finale is action packed.
BILLIONS
we have been working our way through this one for months now and actually just wrapped it up a week or two ago. just in time too because a new season comes out in May! sometimes ethan has to explain some things to me because i don't understand the stock market that well but the drama of the show makes it worth it.
BIG LITTLE LIES
this show was phenomenal! season one was definitely better than season two but still both are worth watching. this is one i have already re-watched. i love the mystery behind each of the women's lives and the way it all plays out.
DEAD TO ME
i binged this all in one sunday after a friend recommended it to me. highly recommend! i cannot wait for season two. i was not interested at all after watching the trailer but after i got to the end of the first episode i was HOOKED. it's twisty. one that i will most likely re-watch as a background show before season two aires.
SUCCESSION
this is the craziest family. the characters all have a bit of humor to them and the plot is ruthless. there are only two seasons so far but it is definitely one i recommend.
GOSSIP GIRL
truth be told, i am actually not watching much gossip girl right now but i couldn't publish this blog without mentioning it because it is 100% my most watched show. every time i finish the last season i just start the whole thing over again because i love it so much so i am always in the middle of part of it on netflix. it's just one that i turn on while cleaning or before i fall asleep in bed at this point but if for some reason you haven't seen it–it's a must watch in my opinion. very lighthearted and super unrealistic!
REAL HOUSEWIVES OF BH
i have been a huge housewives fan since day one so i have certainly seen all of the episodes but beverly hills and new york are my two favorites. this year i started bh from the very beginning and watched it as a background show (it's on hulu) and i did not regret it! so funny to watch all the ladies throughout the years and bh had so much go on in the beginning. i plan to start ny from the beginning next…
TOP CHEF
All the old seasons of Top Chef are on Hulu. Ethan and I decided to pick an old one to binge since we didn't start watching it until recently and it has been the best decision. It gives a great distraction every night and allows us something to talk about and watch that is entertaining but really mellow. Not scary or sad or upsetting and there's just enough drama and unknown to keep you paying attention. Give one a try if you are looking for the same type of thing in contrast to the news right now. We are about to finish up the Louisiana season and I think we might watch Charleston next!
Shoot me a message if you have any recs for me based on this list. I am always open to starting something new, especially now! ha! xx