These are the items that actually ended up in my own cart on the first day of the Nordstrom Anniversary Sale 2019. I was very selective and only ended up buying things I really liked and had a need for in my closet. Yay!
I was able to shop the sale a little early because I have ambassador status (which means I order too frequently, haha) but the sale will be open to anyone with a Nordstrom Card TOMORROW at 12:30pm EST.
---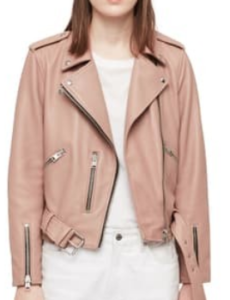 ALLSAINTS BALFERN LAMBSKIN LEATHER BIKER JACKET IN BLUSH PINK
I have wanted an ALLSAINTS leather jacket for years + years. They are supposedly such great quality and really stand the test of time and I have always loved the fit online. I hope I do in person!
I am also a little iffy about this color. I hope it is not too pink in person. We will see! If it's more of a neutral then I thought it would be a great thing to pair with all the black denim I wear. It was the black and silver details that sold me. I think they give it an edge, which I love.
Also not sure about the sizing. I will let you know when I get it in. I read that it runs small so I changed my order from a 4 to a 6.
---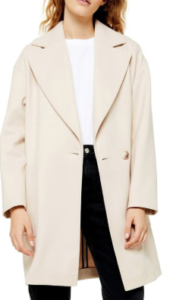 If you remember from my previous post, I was on the hunt for a minimal coat in white, cream or tan. As soon as I saw this one, I knew it was the coat I wanted to order!
I hope it is good in person. I love how it looks like a lighter weight option because I ended up getting the most wear out of those . They are good for more months of the year!
I ordered mine in a 6 US (fits like a 2-4). I hope that was the right pick! Topshop runs a little funny so I usually follow the numbers in the parenthesis unless I want a snug fit.
---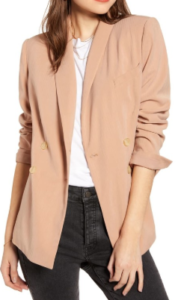 DRAPEY DOUBLE BREASTED BLAZER SOMETHING NAVY IN TAN TAWNY
I debated between this blazer and THIS one for a while. I am not sure I made the right choice yet, but the Something Navy blazer seemed like better quality and fabric from what I could tell online.
Also hoping this one is not too pink. A good tan/nude would be great for my closet!
If I like this blazer I plan to swap out the buttons for some black ones. I really like that look!
I ordered a small.
---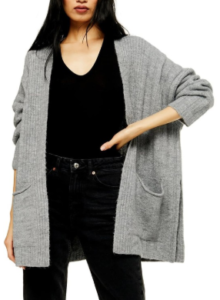 TOPSHOP LONG CARDIGAN IN GREY MARL
I got rid of every single one of my cardigans a couple years ago. Since I have bought one black one and it is soft, longer and slouchy. I ended up wearing it a lot. Actually, THIS one is super similar if not the exact same.
I remember thinking last year, that I could use a grey one. I searched through all the options in the sale and this one was my favorite!
Ordered a small.
---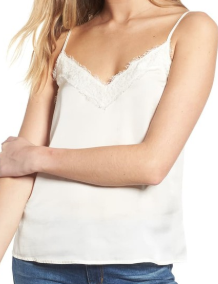 BP. LACE TRIM CAMISOLE TOP IN IVORY
I bought this in the sale last year and it ended up being my very favorite item. I got the black and the cream. I wore them both SOOOO MUCH! Too much probably.
It's my favorite because it is not too skimpy in the front. The lace provides a little more coverage on the sides near your arms than a lot of other camis.
Problem is–I spilled something on my cream one and the dry cleaners could never fully get it out. So currently I can only wear it tucked in or with a jacket/blazer. I scooped up another cream one to fix this! I debated on getting another but they all looked a bit cheapened in the other options, in my opinion.
This sold out super, super fast last year and never really got fully restocked so if you like it order it ASAP!!
Mine are a size small.
---
My order is supposed to arrive on Monday. As soon as it does, I will do a try on video!
PS–if you missed my first post with my advice for shopping the sale and all the details then check that out HERE.
I will have another post up with additional picks soon too so check back! xx