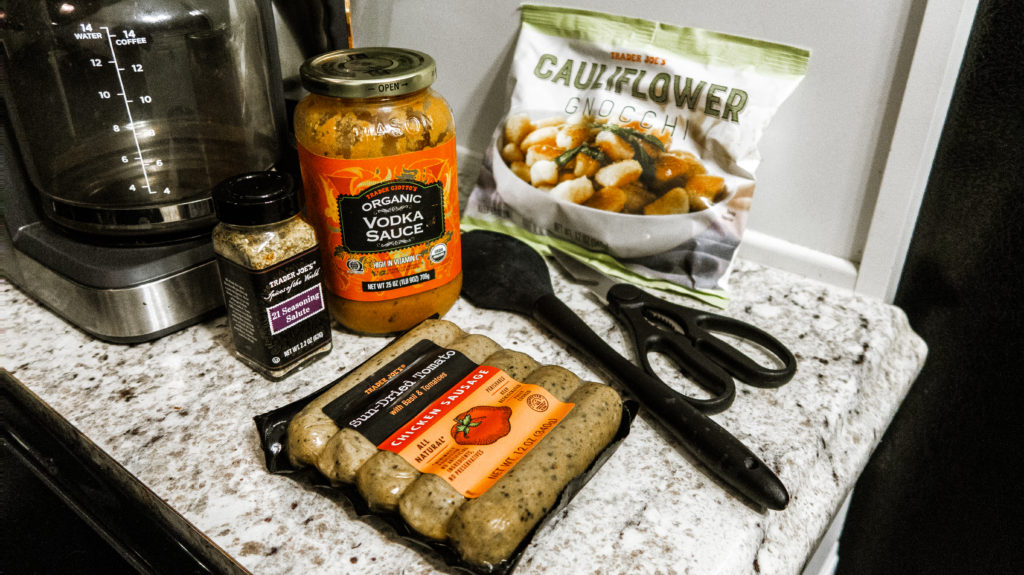 I have been on a Trader Joe's kick lately and this is one of the meals we have repeated several times. We love it!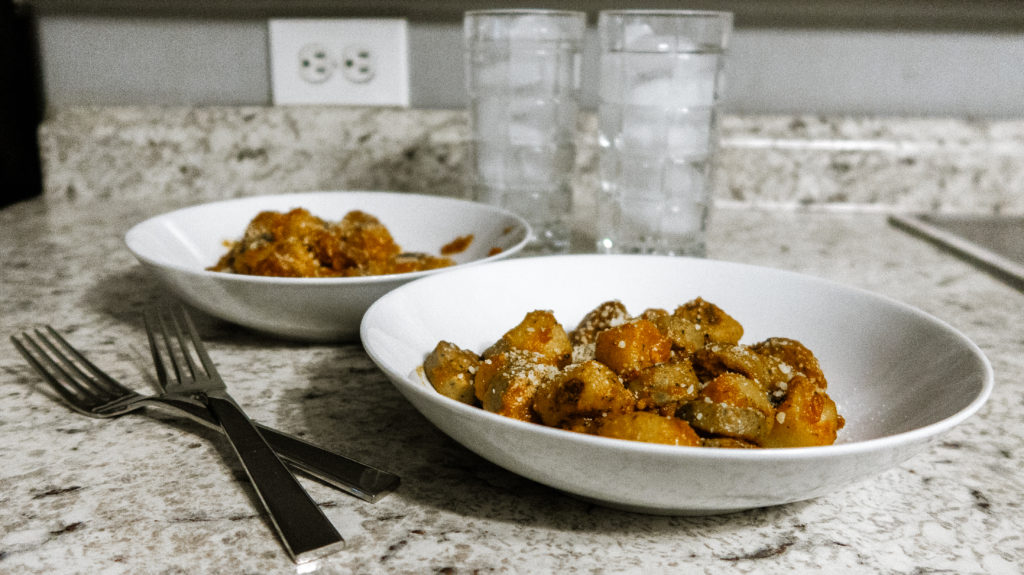 INGREDIENTS: (ALL FROM TRADER JOE'S)
1] CAULIFLOWER GNOCCHI (frozen section)
2] CHICKEN SAUSAGE SUN-DRIED TOMATO W BASIL + TOMATOES
3] VODKA SAUCE
4] PARMESAN CHEESE
5] 21 SEASONING SALUTE
First. A few things that you need to know about the gnocchi..
pronunciation–Say this like noh-key. It's a funny looking word, I know, and so many people have trouble with it. I definitely did when I first discovered it!
preparation–Do not follow the instructions on the back of the bag from Trader Joe's! It tells you to add water and you do not need to!
options–Trader Joe's also offers a cheese gnocchi and a sweet potato gnocchi. I took a 2 second glance at both of these the last time I was in the store and saw that the nutrition facts were worse for you and then just grabbed the cauliflower option again. So, I haven't tried those.
INSTRUCTIONS:
1] SAUTE FROZEN GNOCCHI IN A SKILLET ON MEDIUM HEAT
Again, ignore the instructions saying you need to add water to the pan. You don't. We like to sprinkle seasoning over it and move around until is is warm and the outsides look a bit crispy. This takes about 18 minutes usually.
Side note: We have tried baking these instead. I saw where some people prefer this method. We did them at 425 for 25 minutes (as I saw recommended by someone on IG) but we ended up having to add more and more time and they ended up being less crispy. We like to prep in a skillet more!
2] SLICE CHICKEN LINKS INTO BITE SIZED PIECES AND ADD TO SEPARATE SKILLET ON MEDIUM
These come pre cooked so you just need to get them hot.
3] REDUCE CHICKEN SKILLET TO LOW, ADD VODKA SAUCE AND SIMMER
Use as much sauce as desired. We usually do about 1/2 the jar. Stir occasionally until gnocchi is cooked.
4] ADD IN GNOCCHI and STIR FOR 30 SECONDS
After both skillets are combined, you are ready to serve. We like ours in these plate/bowls. They work great for pasta, salads, etc etc!
5] TOP WITH PARMESAN CHEESE IF DESIRED
So simple! We like the cauliflower gnocchi a lot so I think we will start experimenting with other items to pair it with for dinners too. If you all have any favorites, let me know! xx