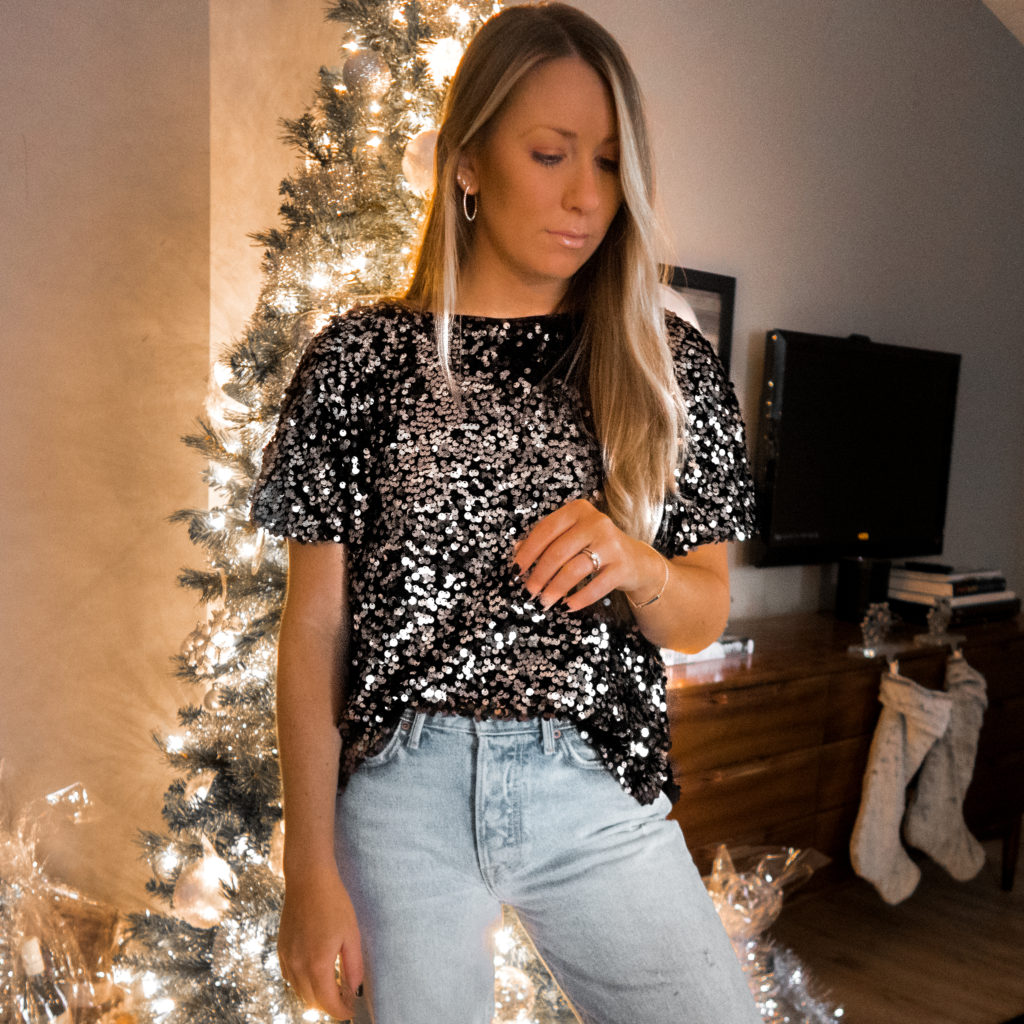 Happy FRIDAY! Today is the start to Christmas weekend!! Sharing this ahh-maze sequin top and a little H&M try on haul with you all today…
Let's kick things off with this SEQUIN NUMBER! Isn't it fab?? I did not even have anywhere in mind to wear this but as soon as I saw it I grabbed it immediately. I just knew that tops like these come in so handy. It can totally be dressed down with jeans or you can add a skirt and tights for a more fancy pants look. Such an easy wear item too because it's just like an oversized t-shirt! I debated between the xs and s forever.. I tried on both. The xs fit well but in the end I went with the s to play up the oversized, laid back fit.
Ok, and on to the try on haul. I told you all about my H&M order in this post and today I am showing you all the items. You can watch my IG story to see the videos I took. They provide a better view of the items and will be saved to the highlights tab on my profile.
LOVE THIS CASUAL BASIC BECAUSE OF THE RIB DETAIL
[WEARING XS]

THIS VELOUR SET IS A KEEPER
[WEARING S TOP + M BOTTOMS]

ADDING ANOTHER COLOR IN THIS BASIC SWEATER TO MY CLOSET
[WEARING XS]

I KNOW THIS OFF THE SHOULDER WILL COME IN HANDY THIS WINTER
[WEARING XS]

THESE STATEMENT EARRINGS ARE EVERYTHING I HOPED THEY WOULD BE
[WEARING GOLD, ALSO COMES IN SILVER]
We're headed down to the lake house to put up the tree and have a festive night in and then we have Christmas get-togethers with our fam from Saturday-Tuesday! Merry merry from me to you! xx
We're headed down to the lake house to put up the tree and have a festive night in and then we have Christmas get-togethers with our fam from Saturday-Tuesday! Merry merry from me to you! xx