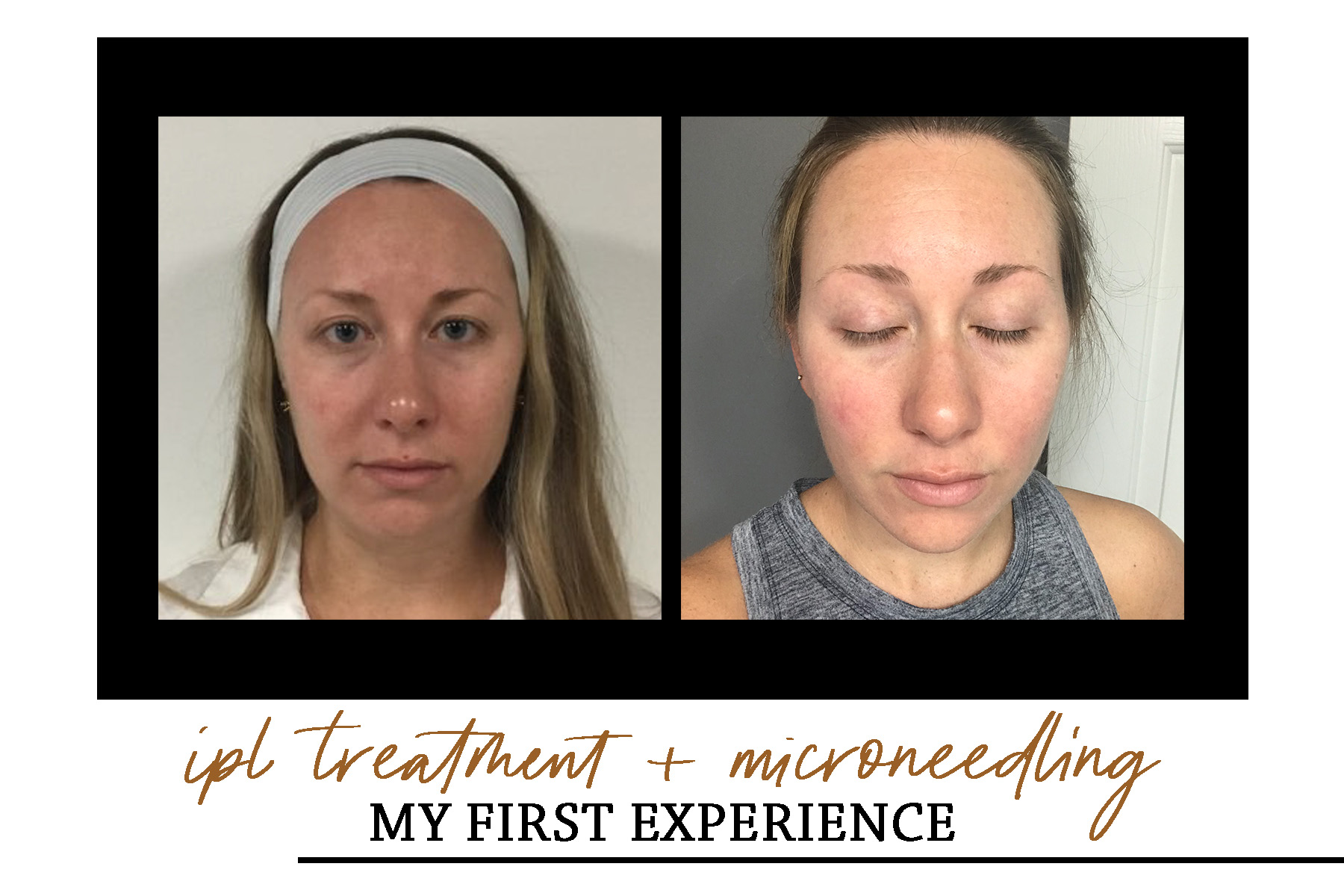 Warning–this is not a pretty, edited blog post.  It's a raw, real-life, unfiltered post detailing my first IPL and microneedling experience that I had done recently at Jazzi Cosmetics.  
Prior to this experience, I had not done anything to my face before.  No facials, no botox, no laser or light treatments.. nothing.  BUT, I was interested in changing that.  So, when my hair stylist reached out to me to let me know they were hosting a botox party with Jazzi Cosmetics at her Simply Blue Salon I was intrigued and stopped by to check it out.  I only had about 5 minutes to spend there that day but it was long enough to chat with Judi about a couple of the things on my face that were bothering me.  We decided to schedule me for a full consult in her office the next week.
I told Judi that the main thing bothering me was the redness that I had developed in the past 6mo in my face.  My dermatologist has told me this is rosacea and it is hereditary.  I also mentioned the three lines in my forehead.  She suggested a series of IPL and microneedling treatments for me.  I was unfamiliar with both but here is what I have learned..
DISCLAIMER:  Clearly I am no expert and do not have any medical training in this field–I am simply recounting my own personal experience with you and sharing!  If you're interested in having any treatments done yourself, then book a consult so you can chat with a professional.  You can do that at Jazzi by clicking here.
ipl treatment
IPL stands for intense pulse light.  It is a hand-held light machine that can be applied to your skin in flashes and it treats things such as skin pigmentation, sun damage, acne, unwanted hair and veins.  In my case, Judi thought it would be a great treatment to help with the red blood vessels showing on my face, aka the rosacea.
microneedling with prp 
Microneedling uses a pen-like device that contains tons of tiny needles in the head.  It is rubbed across the skin to puncture–creating a controlled and intentional injury.  In turn, your skin then is forced to heal the wounds and rebuild.  This stimulates collagen and elastin production.  Microneedling can help with things such as fine lines, skin texture, hyper-pigmentation, pore size, acne scars, etc.  The specific type of microneedling I had done involved one other step.  The prp stands for platelet rich plasma.  For this treatment you have your blood drawn and then it is spun to separate the plasma.  The plasma is then spread over a small area of your face and then gone over top of with the microneedling pen.  The plasma is rich with growth factors so forcing it into the tiny wounds will help improve the healing and results.  This is the same thing as the "vampire facial".  You know.. the one Kim Kardashian made famous!
There are tons of other procedures out there too!  These are just the first that I am giving a try.  I think this is a great start to getting my skin in better condition for my wedding day in November!
my experience with ipl
The day I went in for my consult, we also had time to perform the first IPL treatment.  I removed my makeup with some makeup wipes, Judi covered my eyes for protection from the light and went over my face and neck with the machine.  I was not numbed for this, and I was surprised at how intense the heat and pain was.  I assumed that was normal, but I know that I do have a pretty high pain tolerance so looking back I probably should have let Judi know how uncomfortable it was.  I just thought no pain, no gain haha.  But, it's just a part of the learning experience so I wanted to share.  Also, I have since heard from a fellow blogger that treatments like this hurt WAY more during your period.  Judi confirmed this for me during my second appointment, so that could have been a part of it too.  In addition–I had a really hard time not jumping each time the light was flashed.  I am SUCH a jumpy person–things always startle me even if I expect them, haha!
IPL TREATMENT:
IMMEDIATELY FOLLOWING THE IPL TREATMENT:
I snapped these right after I walked to my car following the treatment so you all could get an accurate look at my skin following the intense light.
That afternoon I had plans to meet my mom at her house to do a few things for the wedding and take a trip to our venue.  I left my face bare of makeup and threw on a hat.
A COUPLE HOURS AFTER IPL TREATMENT:
MORNING AFTER IPL TREATMENT:
Here is a recap from right after I woke up the morning following my IPL treatment.  You can see a raw look at my skin here!
Later that evening Ethan and I headed out to grab some dinner.  I put my normal makeup on at this time and I was sure to take a video so you all could see.
NEXT DAY AFTER IPL WITH MAKEUP:
This photo was taken in the car two days after the IPL treatment.  I added this in just so you all could see how easy it was to go about my normal business after the treatment.  I had some foundation pressed powder on here but the picture has not been edited at all.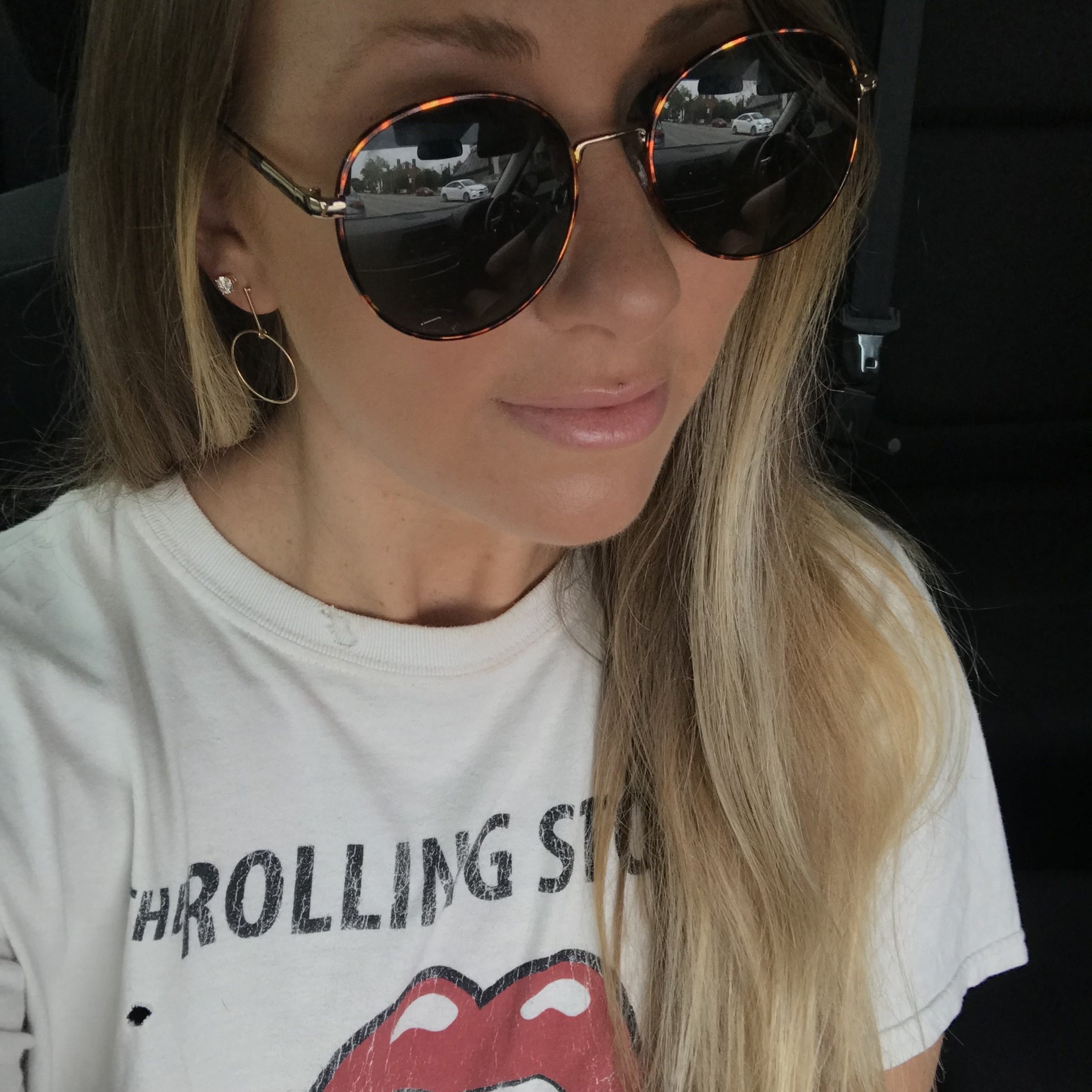 ipl treatment take aways
The redness in my cheeks did decrease!  Thankful for that!  I do need additional treatments to help with the color and veins still, but we have made progress.  The bumps that showed up all over my face (which I assumed were pimples, but I am not sure) were a bit of a mystery to Judi.  I will be anxious to see if they appear again after another treatment.  The bumps and the redness took about a week to go away.
my experience with microneedling with prp
We scheduled my first microneedling session 5 days after my IPL treatment.  Judi told me that these could be done during the same appointment in the future, we just did not have time for this to be the case on the first day.  I am kind of glad we did them separately so I could document and watch the healing process of each!  We started off my putting numbing cream all over my face and then blood was drawn from my arm for the prp.  This time the procedure did not hurt at all.  In fact, it felt good!  Like a little facial massage with the pen.  My lips and face felt funny after, until the numbing wore off, but I was thankful to not be in any discomfort.  It is important to note that since it was my first time microneedling we did not go as deep as we would in the future with the needle.  Hence, the no pain.
Warning–these are a little graphic and you might not want to watch if blood makes you queasy!
MICRONEEDLING WITH PRP:

And here is face after the treatment, before we cleaned the excess blood off.  It was puffy from the numbing cream and the microneedling.  Judi let me know that while this may look shocking–it is actually a good thing.  When microneedling you want to see a small reaction of blood to ensure that you entering the skin at the right depth.
Not my best look, right???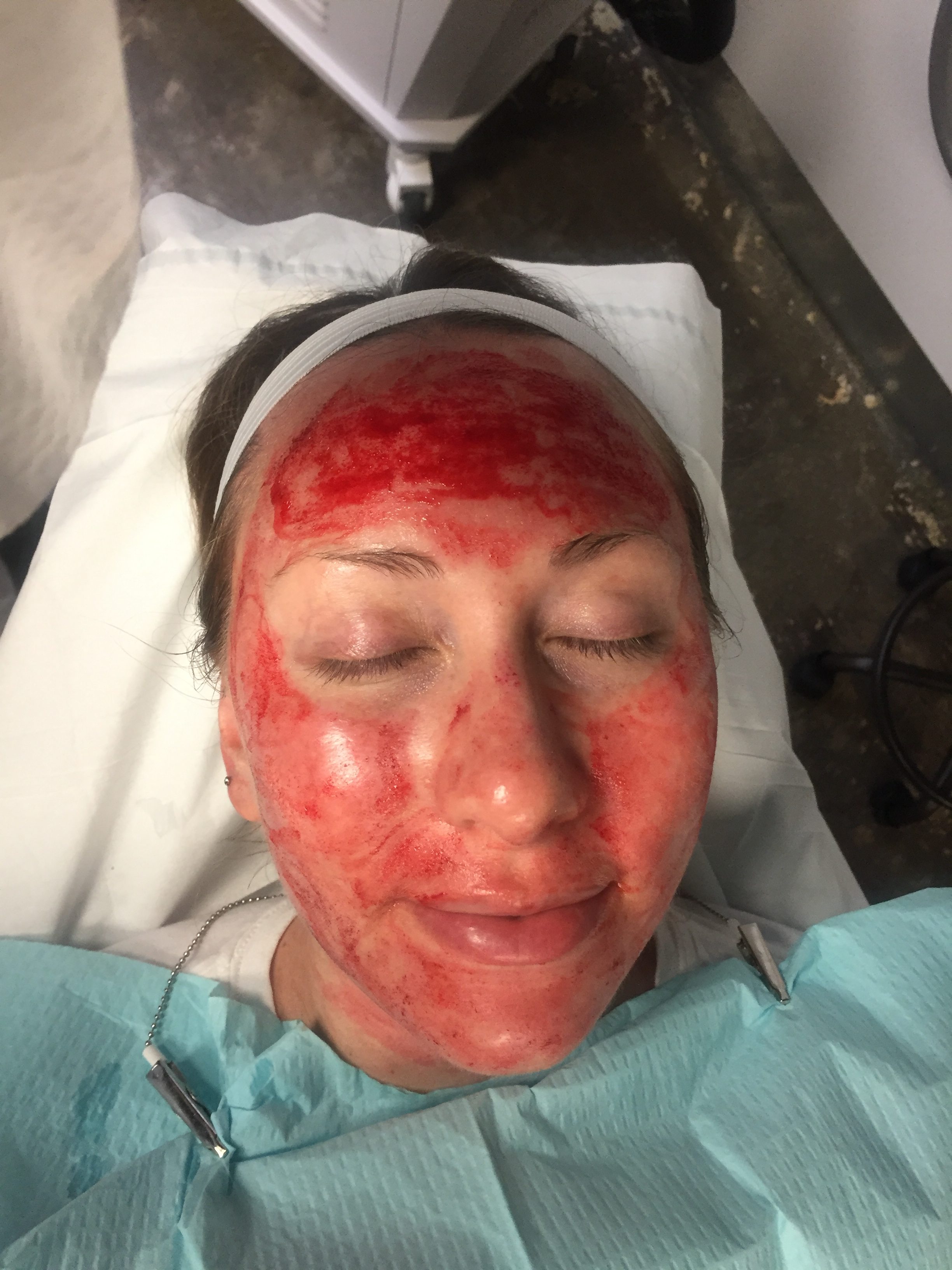 IMMEDIATELY FOLLOWING MICRONEEDLING WITH PRP:
Again, these were snapped after I got to my car after leaving the Jazzi office.

The next day the Judi called to check on me.  I told her that I had redness and small marks visible from the needles but no new bumps like I had after the first IPL treatment.  She said everything sounded normal and we scheduled my second treatment for 3 weeks later.  We plan to repeat these procedures again.
MORNING FOLLOWING MICRONEEDLING WITH PRP:
As you can see my skin was still really red and you could see exactly where the microneedling pen had been.  However, I did not have any soreness or bruising.  I worked from home the day after and kept my skin out of the sun and did not apply anything other than moisturizer.
DAY 3 AFTER MICRONEEDLING WITH PRP:
microneedling with prp treatment take aways
This takes longer to heal than I expected.  Even after you can put on makeup (I waited 48hrs) your skin is still going through the recovery process and beginning to heal the wounds.  I wanted to give myself  plenty of time after the procedure before sharing my results with you all so I could accurately recap my experience.  I would say it took a good 2.5 weeks before my skin was feeling good and improved and no longer dry.  I am sure that is different for everyone, but after that amount of time I was able to see my skin be MUCH more smooth.  Everything seemed more even too.
A COUPLE WEEKS AFTER HEALING:
I wanted to also include some photos of my skin after it had fully healed.  These photos were taken a couple weeks after the procedures.  Just like the others they are makeup free and have not been edited at all.  (eek, haha)  I think you can see how my skin is less red, smoother, tighter, and brighter.  I know the three lines in my forehead are NOT nearly as deep.  I can feel them a lot less when I run my fingers over them.  Overall, definitely on the right track!
Improving my skin is a priority of mine now with the wedding coming up but it is also something I want to maintain after.  These are procedures that would need to be repeated in order keep the results.  Since I am still at the very beginning of this journey, I cannot say how often I will end up doing them just yet but I will keep you all updated.
why jazzi cosmetics?
The staff at Jazzi is friendly and knowledgable and they also have a great approach to their services.  They modeled their business off of the Europeans.  In Europe, cosmetic treatments are much more common and therefore also much more affordable.  Jazzi wants their services to be accessible too.  Their prices reflect that and they also have a great VIP membership plan (the best offer I think).  For $125 a month you can come in every other month and get any treatments that Judi sees fit during your 60-90 minute appointment window.  For $250 a month you can have that appointment every month.
ps, I think treatments like this are perfect for anyone to look into but I also think they would be a great thing to gift for a bride-to-be.  Keep that in mind!
Side Note:  The Jazzi Cosmetics office is currently located in a temporary space on the 3rd floor of the Old National Bank building downtown.  They are renting offices inside the co-working floor there.  They plan to have two other locations in Lexington very soon that are permanent and more easily accessible.  (One will be off Nicholasville Rd in the doctors park, across from the stadium)  I was confused finding the location at first so I thought giving you this information would be helpful in case you book your own appointment after reading my recap!  I entered through the door of the bank building that is facing Upper St, got on the elevators to my right, and rode up to the 3rd floor.  Don't be alarmed when there isn't signage when you exit, you are in the right place!  Just walk around to the right and you will see the Jazzi Cosmetic sign and offices.
I know this was a lengthy post.  BUT, if I was going to do this then I wanted to make sure I really covered everything.  I also wanted to go in depth about my personal experience for anyone reading who is local.  Let me know if you all have any questions or would like to chat more.  I am happy to give you more specific feedback and promise to be open and honest! xx