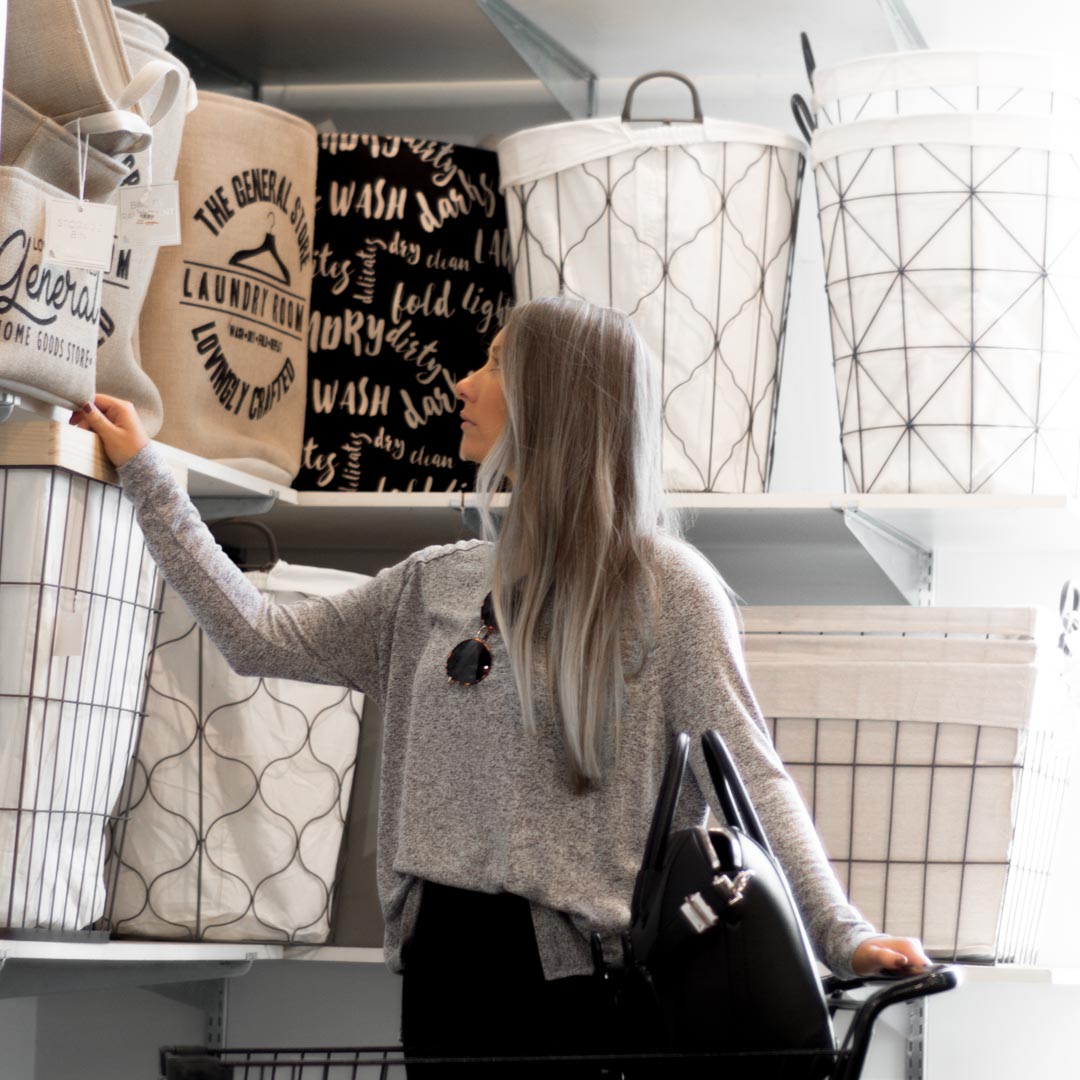 I loooove to shop for home goods.  I am constantly tweaking our home to make sure it is a reflection of our style so we enjoy spending time here.  Gordmans is a great place to find home decor gems!
So, yes—clearly I am not going back to school myself.  [hello 30yrs]  But I've never seen that as a reason to skip out on the 'back to school' shopping craze.  I get the itch this time of year just like everyone else.
I always loved shopping for items to suit up my dorm room or apartment.  In fact, I still remember the massive shopping trip we took to get everything for my freshman year dorm room.  That was with my mom and granny and many laughs were had.  We ended up with some [ugly] pink and orange stringy curtains that did not even begin to hide the mess my roommate and I had in our closets at Transy.  Hindsight is 20/20.  Needless to say, we adjusted by the time sophomore year rolled around and bought some solid seersucker curtains and a fancy accent rug.  We thought we were living the LIFE.
But, moral of the story.. you need to be constantly updating the space that surrounds you.  It is where you spend most of your time and what it contains will have a constant impact on your mood.  It is important to take pride in your living space.  It doesn't matter if it's a 12×12 ft dorm room, a teeny apartment, a starter home or a mega mansion.  Make it yours.  Make it your style.
Once of my favorite places to frequent in Lexington is Gordmans.  My mom and I have been making trips there for years!  We head straight to the home section first, make our way through each aisle and leave with a full cart.  The store is big and so is the selection but the best part?  The prices are low.  Gordmans is an off price retailer–meaning they buy the excess from department and speciality stores and then sell it at reduced prices.  So, the quality is still on point!  Perf.
Most recently, Ethan and I made a trip to Gordmans last Monday to stock up on a few things for the house.  We saw several college girls in there buying everything from down comforters to closet storage bins to velvet side chairs.  For us, we were in search of a new lamp for our entry way table.  We ended up with a very chic lucite and white marble one.  LOVE.  Of course we didn't stop there though.  Here is what else we took home:
– candles!  So. many. candles.  The prices are impossible to beat and we love to have candles burning when we're home.  Usually in a couple different rooms even!
– fall decor  We picked up the cutest and the tiniest white pumpkins that are going to be adorable on our marble entry way table.
– plush dog bed  Or should I say pet bed?  Because Milly has taken over this one. DIVA.  Gordmans has the besssst prices on these though.  I think ours came to around $14.
– dog treats Great place to scoop up bones to keep Remi busy.  He IMMEDIATELY came in the house and sprinted to put his head in the Gordmans bag and dig these out!
– pet toys We'll see how long this one can survive how rough Remi is.  Currently, he's loving it though.  Gordmans has about 2 full aisles of these to pick from.
– candy  Guilty.  We've couldn't leave without some dark chocolate almond bark thins and life saver gummies.
I figured sharing our shopping cart would help you all see what a great variety Gordmans has to offer in case you hadn't been in the store before.  They have everything under the sun–also a great place to pick up hosting gifts to have on hand, btw.  If you're local, the one in Lex is located in the strip behind Fayette Mall right down from Saul Good.
What about you all?  What needs a refresh in your living space?  Use back-to-school shopping as the perfect excuse to find some new items and add them into the mix!
Happy hump dayyyyy. xx
IN COLLABORATION WITH SPECIAL RETAILERS, INC.