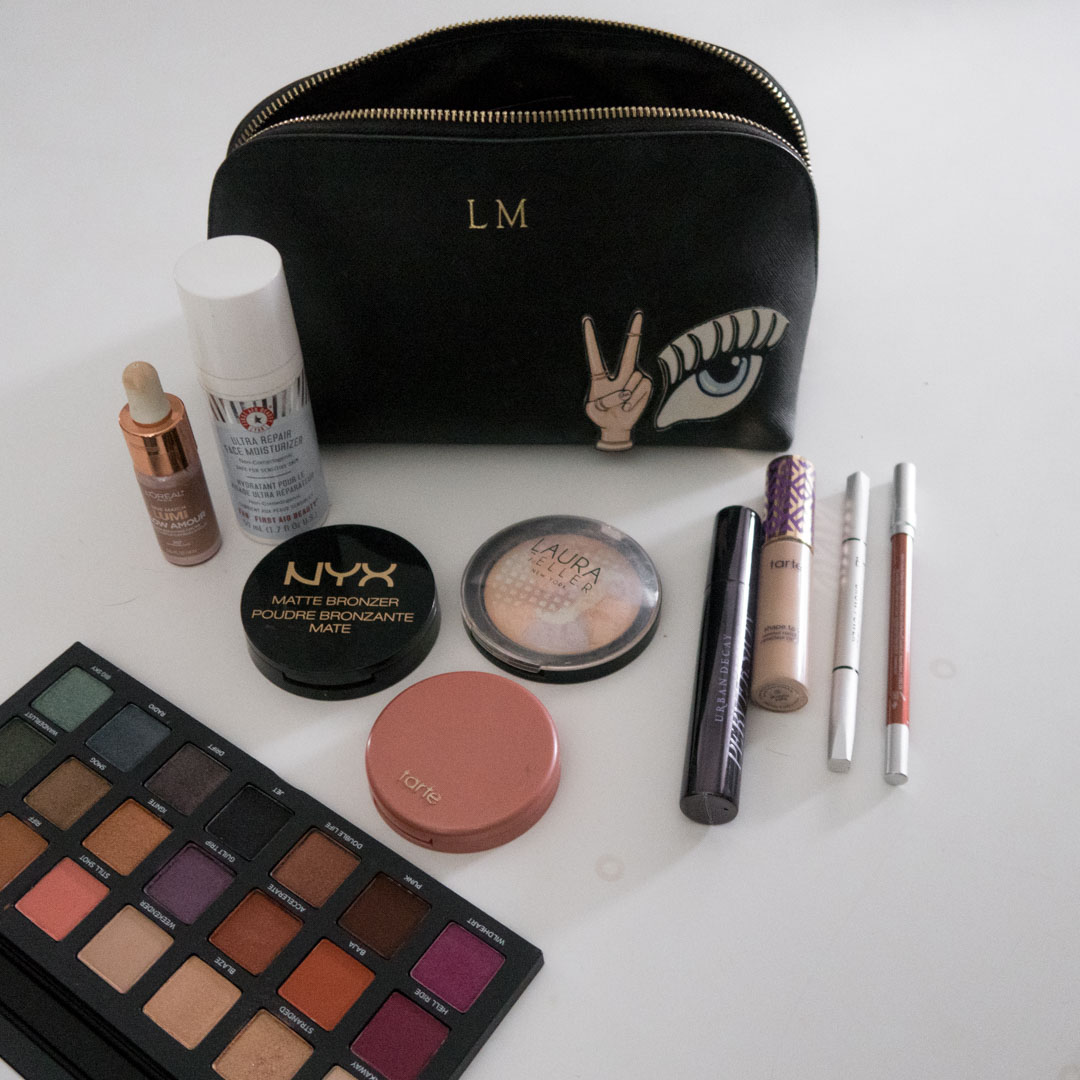 I shared some videos while I was getting ready and doing my make-up on Saturday night and got several questions from you all.  Sharing the details on each product I used here…
The videos are saved to the highlights of my IG account.  You can view those here!
MAKE-UP BAG
Mine is from The Daily Edited and it is the black large cosmetic case.  I added the stickers to it when I got it but I don't think they sell those anymore.  However, the case is still a great buy!  I love the size and how it zips open really wide so it is easy to see what is inside.  Perfect for travel too!  My monogram on mine will be outdated soon!
MOISTURIZER + GLOW DROPS
The L'Oreal team sent me these Lumi Glow boosting drops to try a while ago and I have been loving them for summer!  I have the Daybreak color.  I just mix a few drops in with my moisturizer on the back of my hand and then put on my face.  It provides a nice base.  The moisturizer that I used was the Ultra Repair Face Moisturizer by First Aid Beauty.
FOUNDATION
I hardly ever wear foundation but when I do, I like the Giorgio Armani Luminous Silk.  I have a lot of redness in my cheeks (that just appeared a this past winter, eye roll) and it covers that well.  I am wearing the shade 6.5 currently.
CONCEALER
If there is one thing I will rave about in my make-up bag it has to be the Shape Tape concealer.  It really is as great as they say it is.  Mine is Light Neutral.  You don't need much because a little goes a long way, but I add some under each eye and then tap it in with a damp beauty blender.
FOUNDATION POWDER
I set my concealer under my eyes with the MAC Studio Fix Powder Plus Foundation.  I've never heard of anyone else using this product for that but it works great for me.  Plus, it is already in my make-up bag because it is a product I've been buying since high school, ha!  For everyday make-up, this is the product I always use.  I wear it all over my face and I love how it provides great coverage without being a liquid.  I wear shade NW30.   I apply it with the MAC 129S brush and I think it makes a huge difference.  Definitely recommend doing that instead of using the applicator it comes with.  I swirl the brush around in the compact and then apply when I am wearing it all over my face.  When I am wearing liquid foundation and only using it to set my concealer,  I just tap the brush in the product and then tap the brush under my eyes over the concealer.  Don't rub back and forth or it will remove/move your concealer!
BRONZER
My favorite bronzer is a really affordable buy!  I love the NYX Matte Bronzer.  You don't need much to make a difference so it lasts a long time.  It also blends well.  I apply it in the hollow of my cheeks for a contour and I wear shade Medium.
BLUSH 
I LOVE tarte blushes because they are amazonian clay–super pigmented and you only need a tiny bit to make an impact.  I used to wear a MAC blush and I went through it so fast.  The Tarte blushes are the opposite.  I have had mine forever and you can hardly even tell I have used it.  Mine is shade Peaceful, but it is not my favorite color.  It works fine for the summer, I would like to have one that is a little less peach for the winter.  Side Note:  I also out this on my eyes.  I use a dense blush brush and rub in the crease.  It makes my eyes look awake and more alive.  During the week this is all I wear on my eyes, so I love not having to deal with eye shadow.  When I am doing a full make-up look, it provides a great base color to start with.
HIGHLIGHTER
I have the Laura Geller Filter Finish Setting Powder and I am using it as a highlighter right now.  I like it but I don't love it.  As soon as it is gone (which it almost is) I want to replace with one of the Hourglass products.  I used to have this Ambient Lighting Powder in Dim Light and I was obsessed!  It worked great all over the face too.
EYE SHADOWS
Urban Decay sent me this Born to Run pallet last week and I am in love!  There are SO many great, usable shades included.  If you haven't tried the Urban Decay eye shadows then you will be shocked as to how pigmented they are.  You only need to tap your brush in a tiny bit and you will be shocked as to how much product transfers to your face.  The colors also show up as bold as they look on the pallet.  They are not just sheer, they make an impact!  For the summer glow look I did over the weekend, I went with a really warm feel.  More orange/golden.  I used the Baja and Accelerate shades in the crease and outer corner and then added Stranded on the bottom part of my lid from the middle of my eye towards my nose.  I used Breakaway under my brow for a highlight.  I can't wait to play with some of the other shades soon.  There's a really pretty peach and brown shade I want to use (Still Shot + Riff).
EYE LINER
This Urban Decay Glide-On Eye Pencil also came in the package they sent last week.  I had never used one of their eye pencils but I was so impressed.  You don't have to apply hardly any pressure to get a strong line.  I used this on my bottom lash line only.
EYEBROWS
QVC gifted me this It Cosmetics Brow Powder pencil in Universal Taupe when I was at the RewardStyle conference in April and I am still loving it.  I will definitely buy this product again.  I used to go through eye brow pencils SO quickly and this one is proving to be much better.  I love the shade it gives me since I am a light brown/blonde too.  Having the spool end really helps also.  QVC carries great make-up brands now and has really great package deals.  Be sure to start checking them out.  Their Value Kits provide tons of savings and the brand selection is spot on.  We're talking Tarte, IT Cosmetics, Laura Geller, bareMinerals, etc!
MASCARA
I will be really honest with you all–no matter how many different mascaras I try, I always gravitate right back to the pink and green Maybelline mascara.  But I have to say, this Urban Decay Perversion mascara did surprise me!  You can build on it for length and it is not a clumpy, wet formula mascara.  I'll definitely keep trying it out!  Speaking of lashes–I am wanting to start using an eyelash serum before the wedding and I don't know which one to go with.  Let me know if you all have any recommendations!
Hope you had a great weekend!!