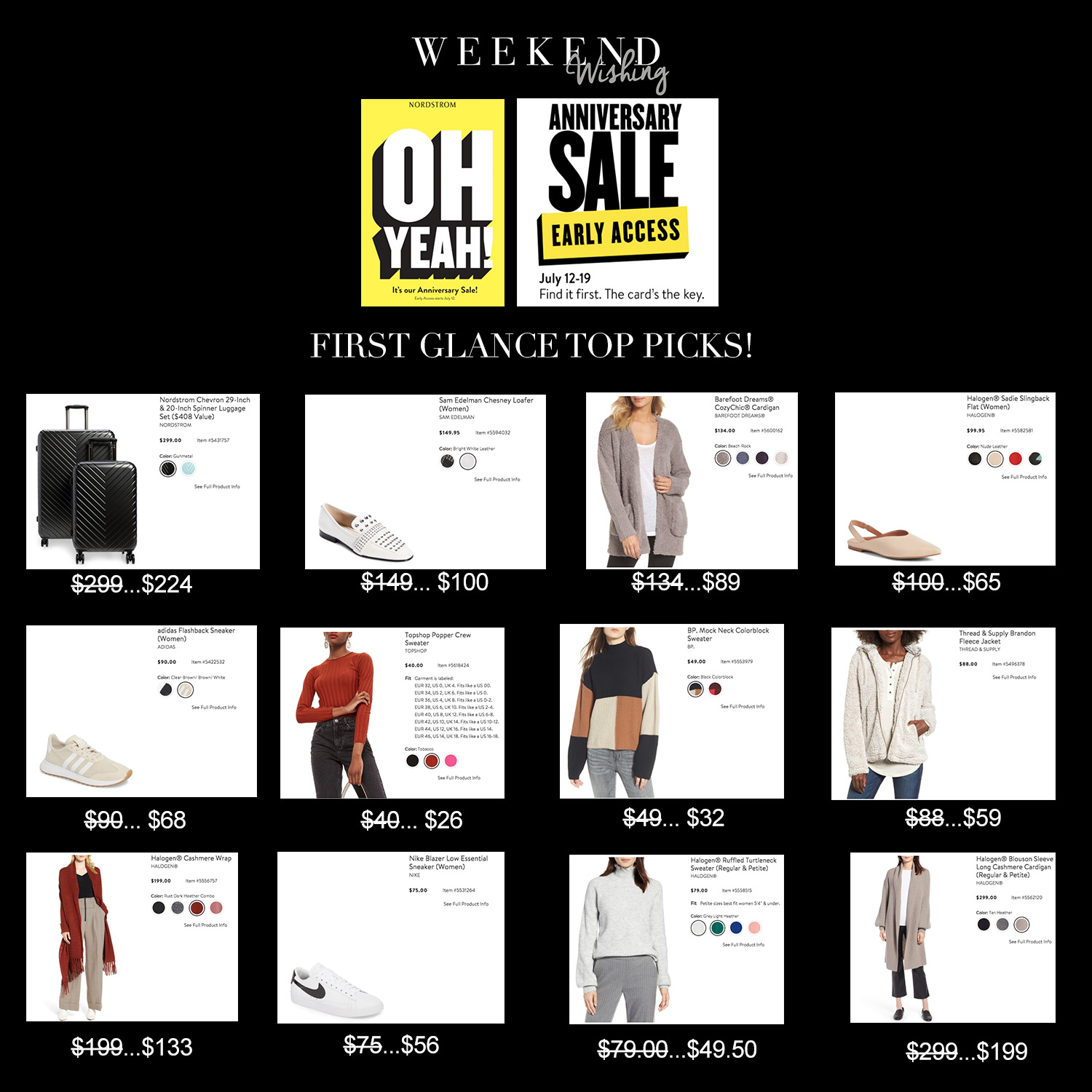 It's about that time again.  About time for the best sale of the year.. the Nordstrom Anniversary sale! It's right around the corner, so I am breaking down all the details for you here.  My honest tips, tricks and my favorite picks from my first glance at the catalog.

Let's do a little run down about the sale.  If you aren't familiar then this is the spot for you–I promise to only include info you need to know + keep it really straightforward.
WHAT'S SO GREAT ABOUT THIS SALE?
They mark down the NEW items that are just coming out for Fall + Winter, not the old stuff that has been sitting on the shelf.  Basically–as soon as the new items for the season ahead are rolled out, they are on sale for a couple weeks.  Then they jump back up to full price.
WHEN IS THE SALE?
If you have a Nordstrom card you can shop the items on Thursday, July 12th.  If you don't, then you can shop the items the following Friday, July 20th.
IS IT REALLY WORTH IT?
It is.  I avoided the sale for a couple years and then finally gave in and shopped it.  I continue to do so because 1) I have gotten really good pieces (like my leather + suede moto jackets) that I have worn for over three years now and 2) because it is my job to report back to you all! Haha, but really!  The sale can be really overwhelming to sort through online so I take it seriously, get up in the middle of the night to look through every single item included (sounds a little crazy , right??) and highlight my top selection for you all in a blog post.  My hope is that this saves you all time.  I will also let you all in on the items I actually purchase for myself.
I DON'T HAVE A NORDSTROM CARD, DO I NEED ONE?
You do.  Last year so many of the items sold out crazy fast and were never restocked (until they jumped back to full-price).  So, you will want to shop on the first day.  It's crazy, even people who aren't "shoppers" are shopping this sale!  But the good news is that you can pick between just a reward points type of card (not a credit card, you can pay with whatever method of payment you want or already have) or an actual Nordstrom Visa, so there's an option for everyone.  With either option they track your point and overtime you'll earn Nordstrom Notes to spend.  They are giving away $20 or $40 in Nordstrom Notes now for signing up for either option too, which would be nice to use during the sale.  You can see all the details here.
WHAT TYPE OF ITEMS MAKE THE BEST BUYS?
I try to but items that fall into these categories..
 – basics
Make sure these are items that you know you would end up buying for the season regardless.  For example, I know I need a new crewneck black lightweight sweater this year.  (My old favorite has a hole.)  So if I see one I will be sure to scoop it up at a discounted price since my closet is in need of one already.  I also try to buy some knit tees, tunics or sweaters in black, white and grey.  They go with so much and I know I will get my wear out of them!
 – larger items staple items
These are things that you will end up building countless outfits around.  Think outerwear and shoes.  Once you have a great pair of tall boots or a classic moto jacket, you can rotate all kinds of knits and sweaters in with them to make an put-together look.  I would also throw designer jeans into this category.  The perfect pair of jeans can do wonders for your wardrobe.  Honestly, I have never been impressed with their selection of designer denim in the sale in the past, but I am going to keep my eye out this year.
 – cashmere
I always make sure I get at least one cashmere item from the sale.  In the past I've gotten a couple wraps (I have grey and cream) and a turtleneck sweater.  They are quality pieces that you will reach for year after year.  This sale is a great time to build your collection.
WHAT DID YOU BUY LAST YEAR?
You can see what I purchased here! ps, is the try-on video helpful?  If so, I can do this again.
Here is the first look at the sale items.  It just came out!  Tip:  You can click on any item the models are wearing to see more details and photo angles.  A lot of the items show the other color choices when you do this too!

Just send me a message if you have any specific questions about the sale.  I'm happy to chat! 🙂