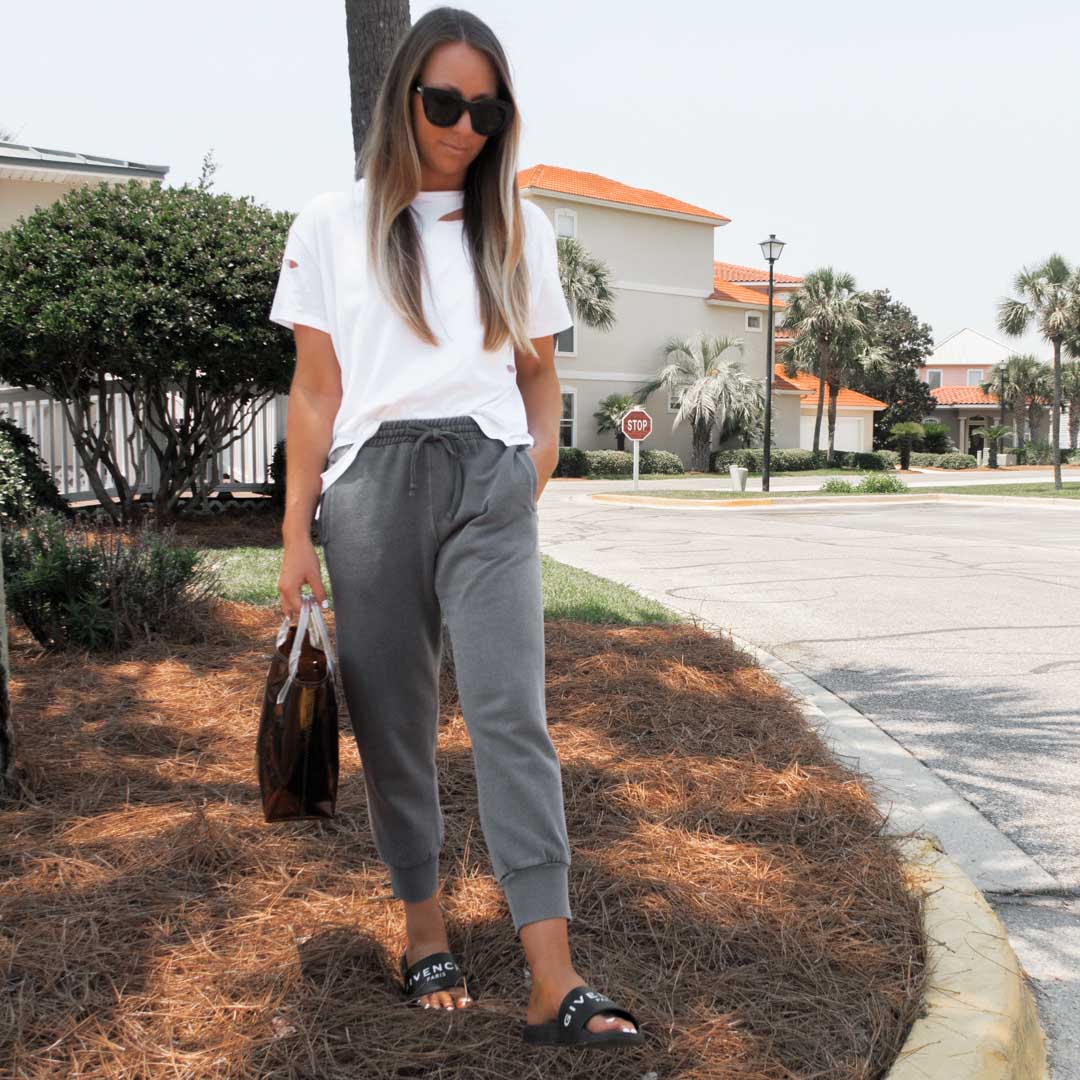 My kind of travel style!  These joggers are everything! They were perfect to wear on a road trip.
Reporting from the beach this week, so my posts will be short and sweet–but not to worry, there will still be great summertime outfits to see on Weekend Wishing! I am currently writing this on our balcony while everyone else snoozes this morning still and I have to say, it's so peaceful.  I'm really grateful to be here this week.  Ethan and I are in Destin, FL with my sister, brother, mom, stepdad and our little pug.  Yes, our 13yr old pug, Bubba Louey, makes the journey too!
We snapped these pics right after we arrived at our condo on Saturday! We had to wait a second for the cleaning crew to finish before we headed inside so I made sure to use Ethan's time wisely and get him to play photographer (yet again), hahah!
You may have seen me raving about these joggers on my instagram already.  They are that GOOD.  A true sweatshirt material and really soft.  What I love about them most is the length of the pant.  Even when they are just hanging down on your leg they are the perfect fit.  I hate that lots of joggers I find are too long.  (I am 5ft4in for reference..)
Also important to note, they are high waisted and come in two other colors!
FYI–these run small.  I ordered a M and intended for them to be big and slouchy and they have a true fit.
Did you all catch the try-on session on the blog and my IG yesterday?  You can see the photos here and the videos on my IG profile under VACATION.
Have a good Tuesday, loves!
Top, similar here also || Joggers || Sandals || Bag || Sunglasses