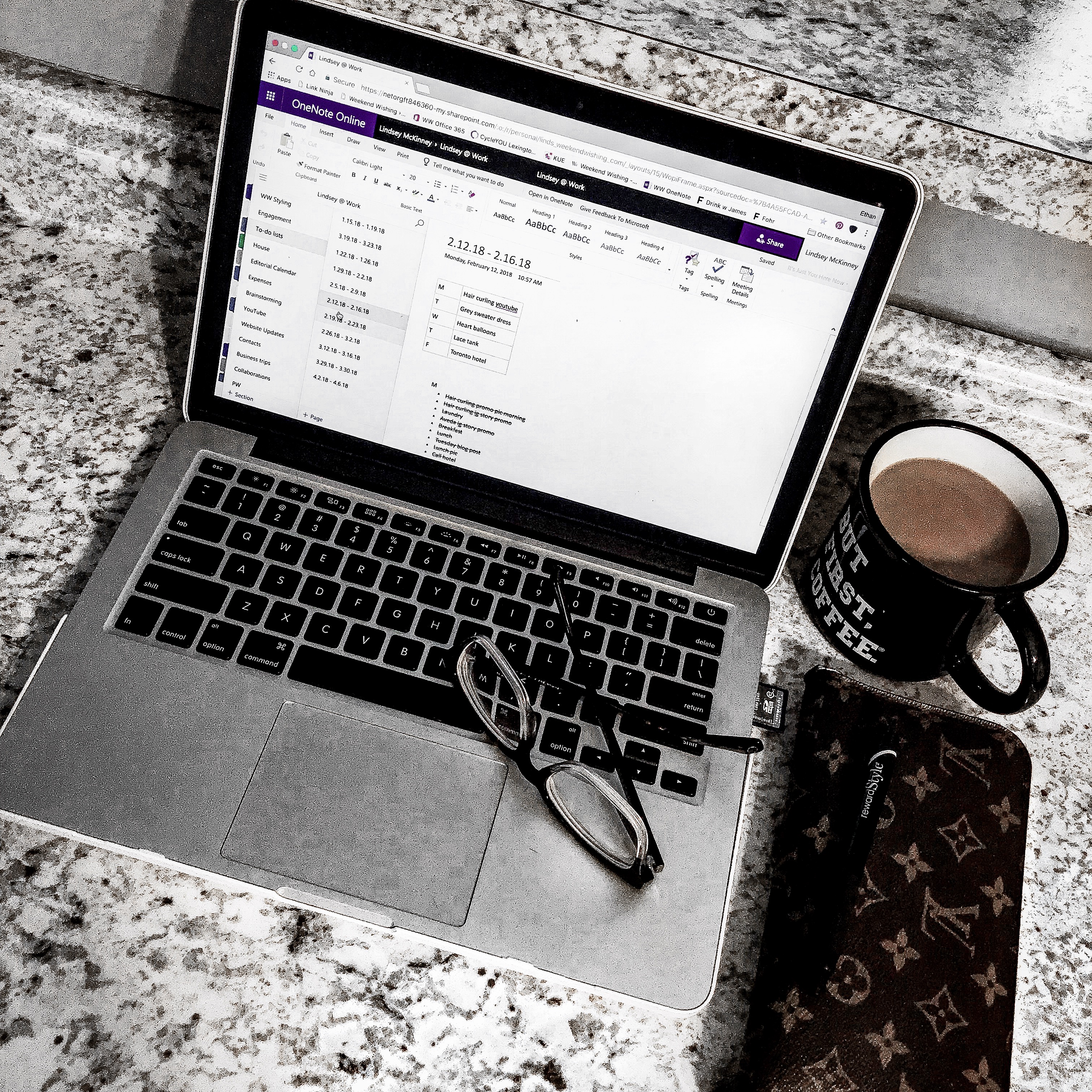 OneNote is the number one thing that helps me get organized + stay organized.  It's an online binder!  I really couldn't live without it and it's so customizable that it literally would work for ANYONE.
I got turned on to OneNote by a friend and colleague at one of my previous jobs.  Once she showed me the program, I was hooked.  Previously, I was a list person.  I had to have a list going and mark things off.  (I still do this on paper from time to time too.) But the problem was–there were always times when I would get caught without my notebook and then I would end up having lists and notes going in too many different places.
Since OneNote is web-based (I think there is a desktop model now too, but I do not use that one) I can log in on any computer and access my notes.  I keep mine bookmarked on my laptop.
When I was at my previous job and as I was training and learning I just used a OneNote notebook to copy in my new procedures and then add my own notes on the side.  Then I started creating my own pages and tabs within the notebook for my own projects and to-do lists.  And once I found out how handy the program was I also created another notebook for personal use.  (You can switch back and forth between notebooks easily.)  It had things like grocery lists, contact information, to-do lists and IG/blog notes.
I turned Ethan onto the program and now he uses a notebook at work to keep track of everything he has going on.
A couple things to note–you can share notebooks with people (like your spouse or co-worker) and it is a free Microsoft service.
When I started blogging full-time I started to build a comprehensive notebook for Weekend Wishing.  It has helped so much.  The pages are blank and you can add whatever you'd like to them.. just like a binder with dividers and notebook paper!
If you all are interested, I can do a deep dive into how I organize my notebooks, pages and tabs in another post.  I hope this helps some of you all too!  I am shocked when I've asked my friends/family/co-workers if they use OneNote and they say no.  I'm always thinking, oh you do not know what you are missing out on haha!
Fingers crossed that Ethan and I can shoot some pictures this afternoon so I have some newbies for blog posts for you all later this week.  It's ANOTHER rainy day here in KY though, so we shall see…
Hope you all are having a good week thus far!