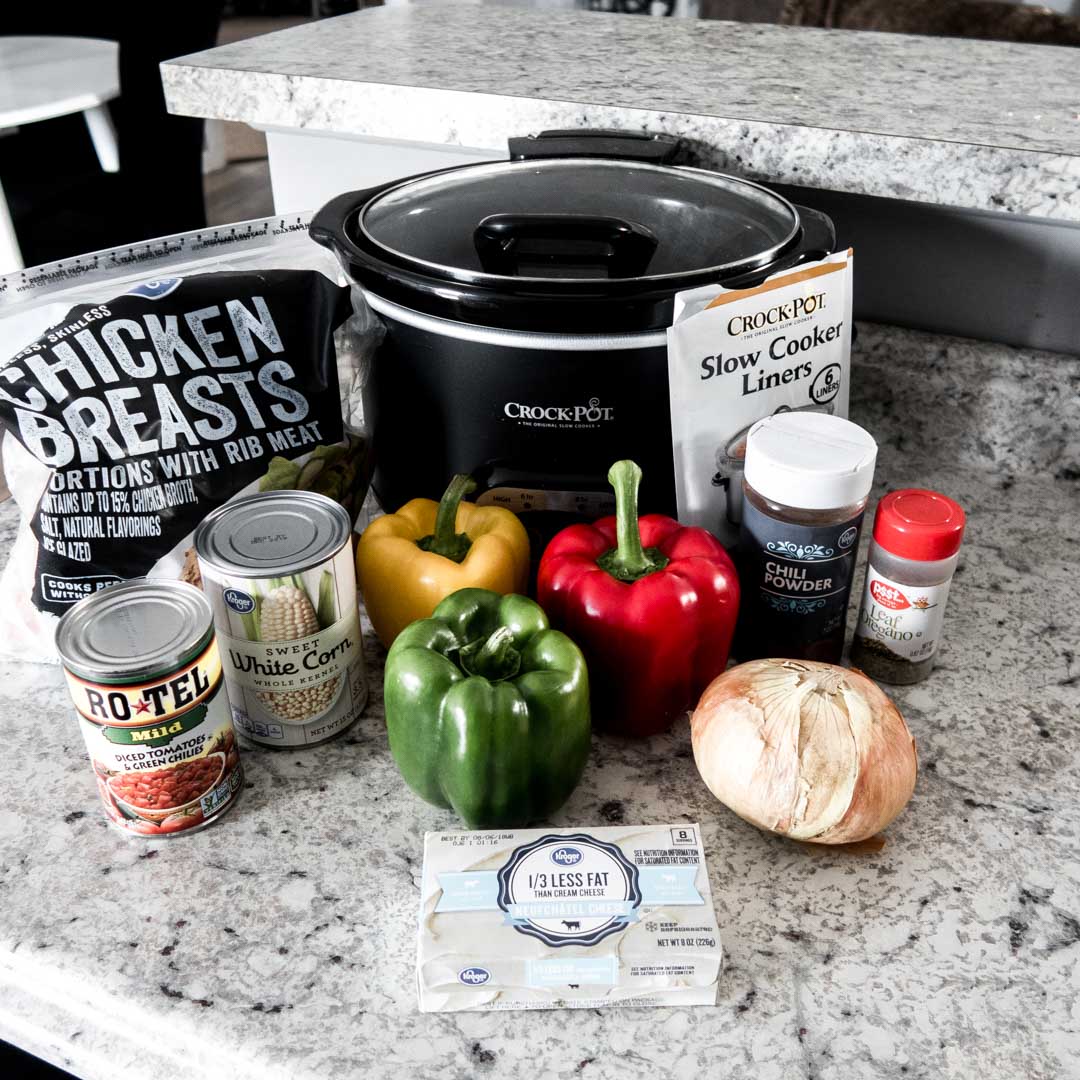 Tuesdays call for easy crockpot recipes.  You know the kind, the ones that take 2 seconds, are healthy and help you make it through a busy week! 
This is the one Ethan and I have been hooked on lately so I figured I would share with you all.  Now, I don't even know if you can call this a recipe–haha.  I came up with based solely on what we had left in our fridge, freezer and cabinet one day.  Then I dumped it in the crockpot and hoped for the best.  After I added a crockpot liner [of course].  Here is what I added:
EASIEST CROCKPOT RECIPE
3 FROZEN CHICKEN BREASTS
1 CAN WHITE CORN (RINSED AND DRAINED)
1 CAN MILD ROTEL TOMATOES WITH GREEN CHILIS (DRAINED)
1 GREEN PEPPER (SLICED)
1 RED PEPPER (SLICED)
1 YELLOW PEPPER (SLICED)
1 YELLOW ONION (SLICED)
1/2 BLOCK OF LOW FAT CREAM CHEESE
5-6 DASHES OF GARLIC SALT
5-6 DASHES OF CHILI POWDER
Add all ingredients to the crockpot.  Cook on high for 4hrs.  Pull out chicken, shred and place back in crockpot.  Pull out peppers and onions, cut in bite sized pieces and place back in crockpot.  Stir.  Serve in a bowl.  I added some sliced avocados on top. DONE!
We're making it again this week.  Ethan loves to take some leftovers to work for lunch the next day.  Which makes this one a win/win!