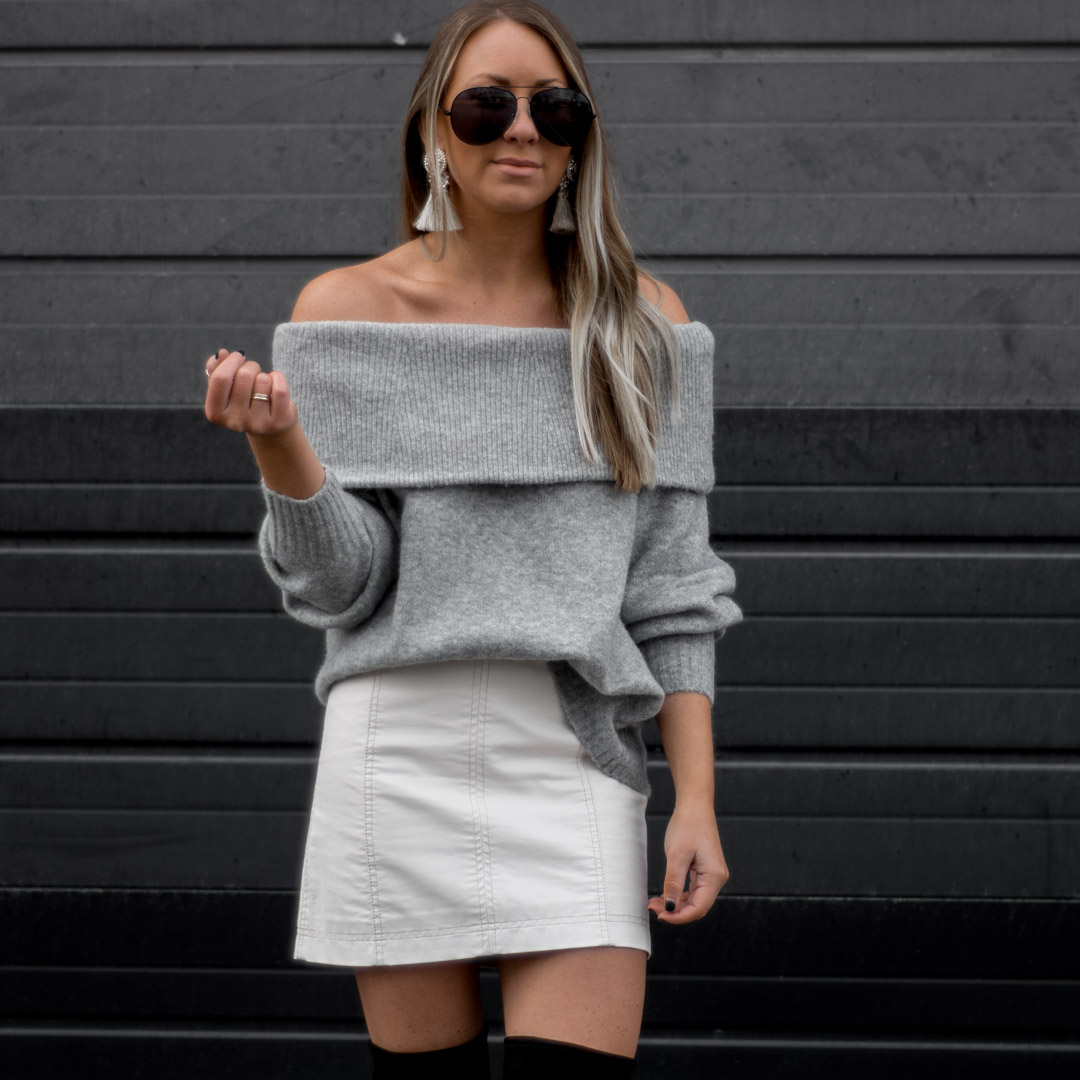 This off the shoulder sweater surprised me.  I picked it up a couple months back (it's still available in all sizes, not to worry) and I figured it would be a good one to have for when I wanted to dress up a bit but still needed to stay warm.  And it has come in handy more than I realized it would!  The best part? It comes in 7 colors and is under $30!
It does have some wool in it but I don't find it itchy.  (I am pretty picky when it comes to that..)  I actually like that it gives some extra warmth since your shoulders are exposed.  That in combination with the thick fabric makes it feel like much nicer quality than you would expect from this price point.  I really want the natural white color to pair with light wash jeans.  How cute would that be?!  [wearing a small]
This is the same skirt that you saw me style here.  Love it!  It's only $50.  [wearing a sz 2]
Oh and I have to mention that my earrings are light weight (despite the size) and come in a zillion other cute color options.  They are only $13 and definitely a must have for spring!  FYI, if you purchase the sweater and earrings together you'll qualify for free shipping.  I am alllll about the free ship!
And if you all have been following me for a past couple weeks then you know what I am most excited about today.  Happy #TGIT!  It's serious motivation to get all my work done so I can camp out on the couch for all my fave ABC shows!  ps, how do you all feel about this Grey's spin off show?  The firefighter one..  I am not sold.  Not yet anyway.
Sweater [under $30 & comes in 7 colors] || Skirt [only $50]|| Boots [30% off!] || Earrings [come in 12 colors] || Sunglasses, similar || Thumb Ring