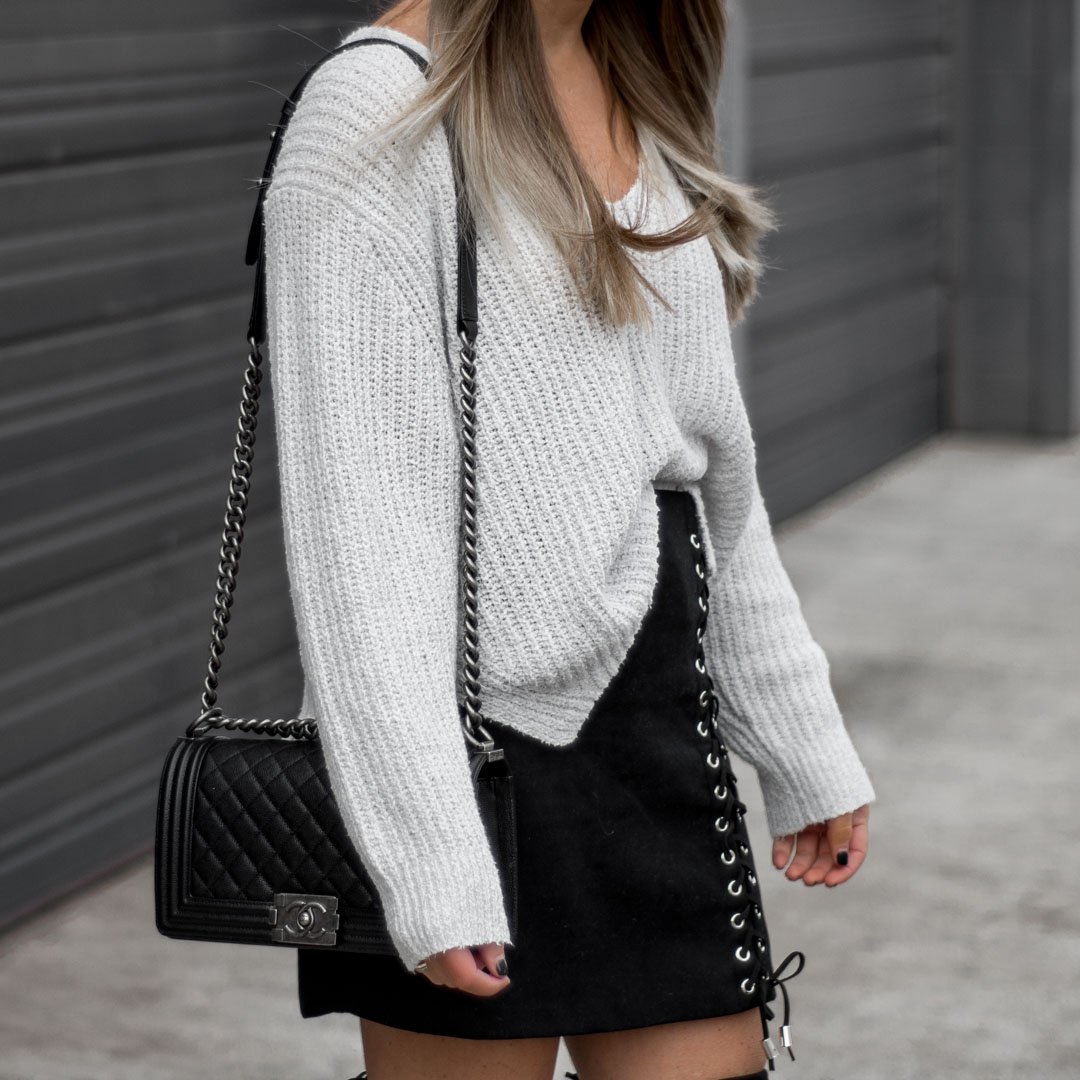 Happy Monday, loves!  I'm kicking off the week ahead of us by sharing a fun outfit and 3 podcasts I listened to last week.  My sweater is a new one and I am in love!  I cannot get enough of the texture and I am feeling the oversized slouchy fit.  I think it will be the perfect one to pair with denim shorts in the summer too.  I always like to have knits like this to throw on with them over a bathing suit.  It also comes in lilac.  [wearing a small]
My skirt isn't new but it is still available.  Yay!  I grabbed this one right before we went to California in November and I had every intention of wearing it with boots when we got back but I totally forgot until now.  The price is a complete steal (under $10) and actually the quality is impressive, considering.  This makes up for the fact that you have to lace up the skirt yourself when it arrives because the string comes separate.  I always order up when buying from low end sites such as these so I got a medium.  It did end up being big, but I can manage.  I would rather a mini be a tad large rather than too snug.
Since I have been working from home a lot lately, I've been listening to some podcasts.  They are also a great way to pass time on a road trip and would be perfect to put on in if you have a commute to and from work!  Here are three that I had on last week:
WATCH WHAT HAPPENS LIVE WITH ANDY COHEN 
I am a Bravo super fan.  I watch alllll the shows so I was excited when I remembered that Andy Cohen's late night tv show is now a podcast!  He has two guests on every night and I love listening to their silly games and gossip.
HOW I BUILT THIS: KATE & ANDY SPADE
Ethan listens to lots of the 'How I Built this' episodes so I had heard a few before but I stumbled across the one where Kate Spade is interviewed and gave it a go.  The story of how they built their empire and when they decided to sell it is so interesting!  Definitely learned a thing or two!
DIRTY JOHN 
We started listening to this series on our way to the cabin we spent NYE weekend at.  I was hooked because it is such a mystery.  Ethan ended up finishing the series on his own, so I finally remembered to do the same myself last week.  If you like true crime, then put this one on your list!  It is a story of a con-artist that invades the life of a wealthy California woman.
I hope you all had a good weekend!  I am starting to itch for warmer weather so stay tuned for more outfits built around mini skirts and a blog post featuring some of my picks for spring!
Sweater || Skirt || Boots, 40% off here and 50% off here || Sunglasses || Chanel Handbag, similar here