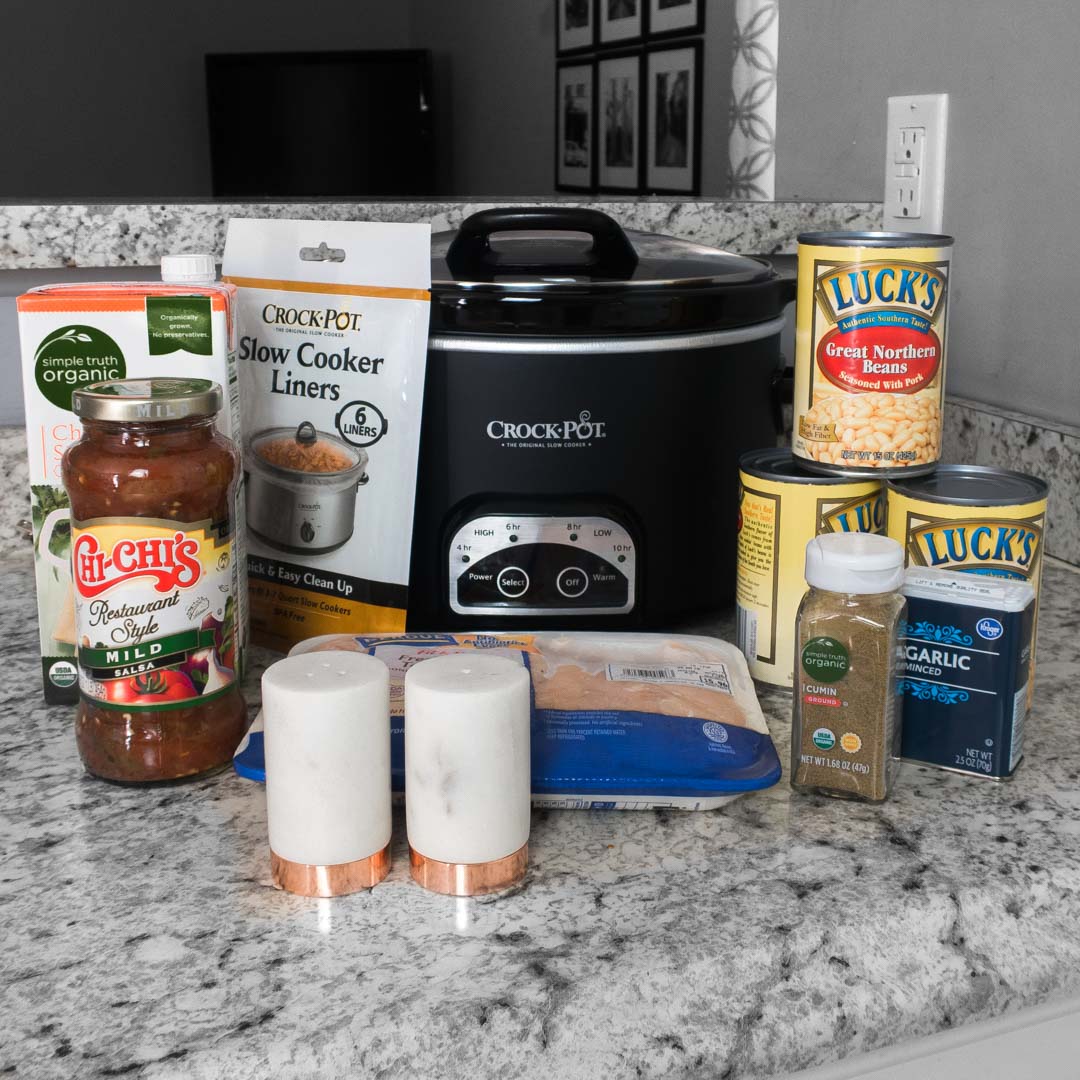 I'm excited to share today's post with you all because it is a little bit different.  It's a recipe!  An easy crockpot recipe–white chicken chili! This is one that my mom has done for years and it has always been one of our faves.  Ethan loves it too so it's a meal we do it pretty often at our house now.  Bonus:  It makes plenty for leftovers too!
I love the idea of a crockpot recipe, but I several of the ones I seek out are still too complicated.  For me, they have to be a dump in and push start kind of deal.  That's the beauty of a crockpot, right?  If I have to do too much prep then it defeats the purpose.
Several of the other white chilis that I have come across on pinterest call for chopped onions and peppers and a handful of spices measured out.  For this recipe you skip all that by just adding a whole jar of your favorite salsa.  Genius, right?!
One other little tip–buy the crockpot liners!  They make cleanup SO simple.  I get mine at Walmart.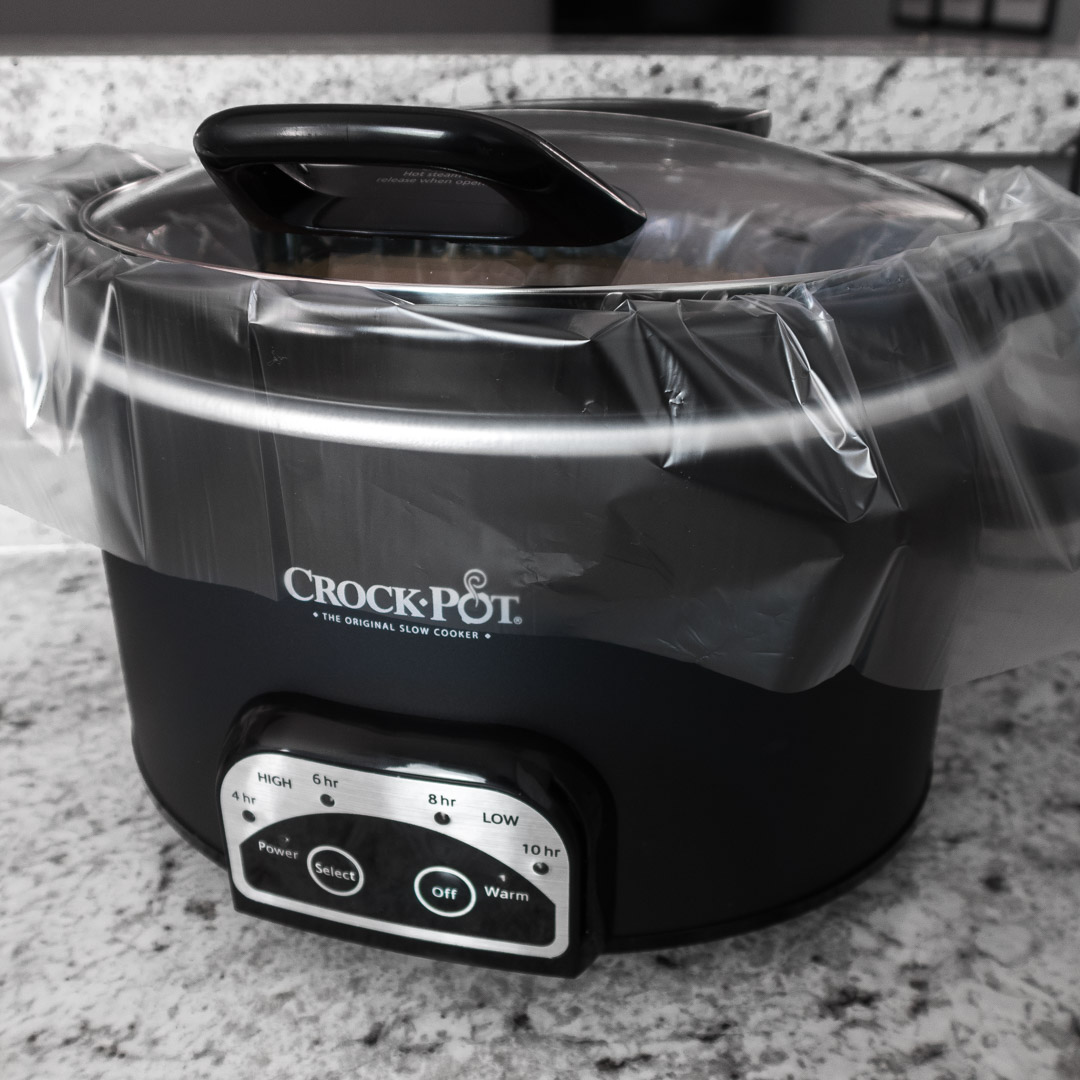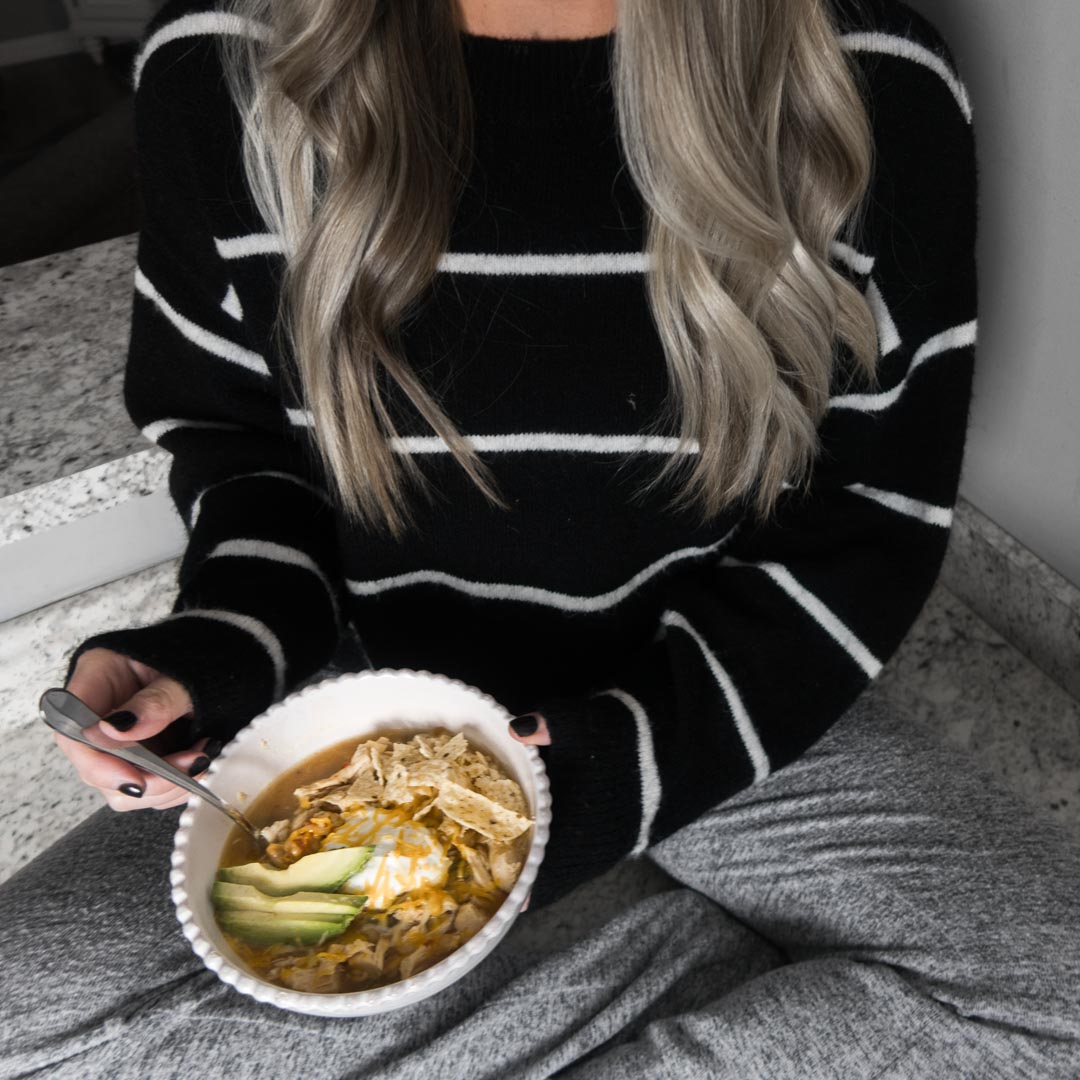 EASY CROCKPOT WHITE CHICKEN CHILI
Chicken – 1lb frozen or thawed
White Beans, undrained – 3 cans, 15oz
Salsa – 16oz jar (we like Chili's Mild)
Chicken Stock – 32oz
Cumin – 2 tsp
Minced Garlic – 1/2 tsp
Black Pepper – couple dashes
TO GARNISH [OPTIONAL]:
Shredded Cheese, Sour Cream , Avocado , Tortilla Chips
Place crockpot liner in and add everything except garnish ingredients. Cook on low all day.  Once chicken is cooked through, remove and shred.  Put chicken back into soup.  Add a small amount of cheese, sour cream, avocado and crushed tortilla chips to each bowl before serving. 
ps, my marble and copper salt and pepper shakers are on sale right now!  My mom got us these for Christmas.  How cute?!
I always get a lot of feedback from you all when I share recipes like this on my IG story.  If this is something you'd like to see more of on WW, let me know!
Sweater [under $20!] || Pants || Slippers [on SALE]
Crockpot || Liners || Salt & Pepper Shakers || Bowl