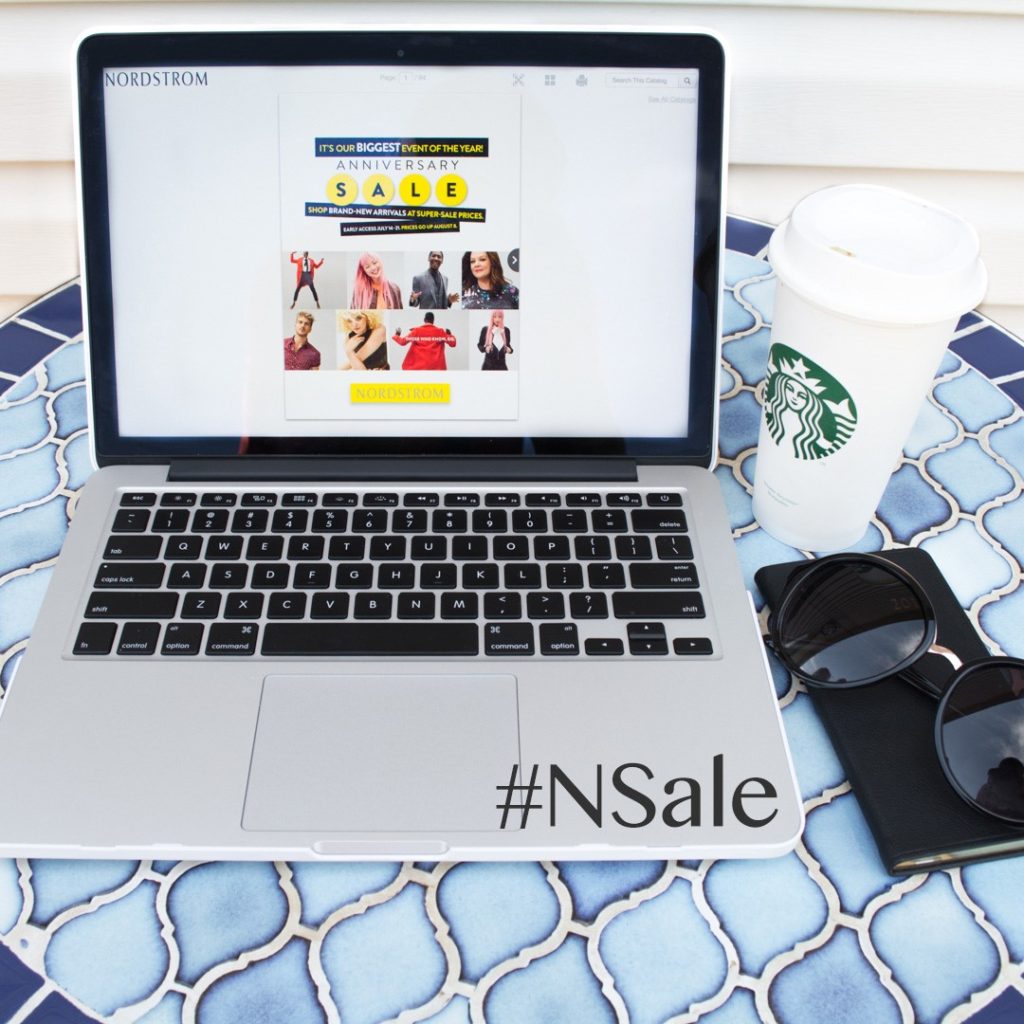 There's a big sale right around the corner and I wanted to give you all a few deets so you're ready before the time to shop hits!
WHAT — Nordstrom does an annual anniversary sale this time of year.  (You'll see it referred to as #NSale.)  They put out their new items for Fall at a big discounted price!  We're talking Tory Burch handbags, Hunter rain boots, Rag & Bone booties, Kendra Scott jewelry, Michael Kors watches, Tory Burch riding boots & more!
WHY — I know you may be thinking–ok, great but I'll pass for now since it's still hot outside and I am not ready to spend money on boots and jeans.  I'll be honest with you, that's definitely the thought process I had last year and I skipped out on buying anything during the sale.  I regretted it too.  Seriously.  Nordstrom is kind of unique in the way they do this sale.. They offer the new items at first at the lowest price and then the items are restocked later and they go back up to full price.  So, by the time I got around to buying the boots I saw people in and totally loved or the new standard pair of distressed denim that I ended up wearing non-stop I had to pay full price.  Blah.  BUT, lesson learned.  I am scoping out some items early this year and going ahead and buying!  I know I'll be happy to have them soon.
WHEN — Early access to the sale is from July 14 – July 21 and the sale is open to the public July 22 – Aug 8.  In order to purchase items during the early access dates you will have to be a Nordstrom cardholder.  [More about that below!]  Just keep in mind that things really will sell out ((fast)) during this sale so if you see an item you want and it is available in your size don't wait!
HOW — Becoming a Nordstrom cardholder was something I debated on for a while but I finally pulled the trigger on Friday and signed up.  You may be on the fence like I was so I'll give you a little bit of my thought process behind the decision incase that may help.  I am always the girl who says "no thank you" to the "would you like to open a fill-in-the-blank card today and save 25% off your purchase" when shopping.  Always.  I don't like to have a lot of cards to keep up with and usually the benefits are not great enough [in my eyes] to make me feel otherwise.
However, I shop at Nordstrom a lot (which I am sure you all know by now, ha)!  A lot of people ask me why and it is not because I am getting free clothes due to blogging.  I love the variety of brands and price points that they offer but that isn't what draws me in either.  Often times I can get the same items at other retailers but I choose to order through Nordstrom because they have a great shipping and returns policy and wonderful customer service.  Both are HUGE in my book.  I never want to pay extra money for shipping.  It seems like such a downfall when I have to and I always feel like I have to spend a lot of time making sure I have everything in my cart that I want to order so I can make it worth my while.  With free shipping, if I see an item I like then I order it and I don't stress if I see another a couple days later and want to order that too.  And I LOVE being able to send things back for free.  This way if I order two sizes in something then I can send the one that didn't work back without the hassle of going to the post office and paying to do so.  I just pop the pre-paid label back on the box and send it back if I want.  (Oh, and if you are like me and can't exactly locate the label then you can also just log into your account on Nordstrom.com and print a new one easily!)
On to customer service–they are exceptionally great!  I just called on Friday and asked for a price adjustment (on these shoes because they are one sale now and I paid full price recently) and they completed it for me so quickly and easily and were super nice about it to boot!  Can't ask for anything better in my eyes!
So I know that was a long rant, but I just want to be honest with you guys.  In the end I decided on applying for a card so that I can shop the sale early and so I will be able to earn points on all my future orders.  You can apply here if you're interested.  It's a really fast process and once you are done your info is saved on your account so you'll be able to shop right away.  I was worried about getting my card in the mail in time for the sale since I waited until the last minute, but with this–no worries!
WHERE — I will have a series of posts up once the sale starts but you will be able to shop it all here, so no worries if you don't have a store close by.  Here are sneak peaks at the women and mens catalogs!
I know included quite a bit of info but I am sure I have left out some thoughts here and there so as always please feel free to send any questions you may have my way!  Comment here, email me, write on my IG pictures, or send me a snap!  🙂