A couple of weekends ago Ethan and I stayed at one of downtown Lexington's new additions–21c Museum Hotel.  21c has other locations (Louisville, Cincinnati, Bentonville, Durham & Oklahoma City) and we had visited a few before but we were very anxious to get inside the Lexington location since it is close to home!  I've been so excited to share this post with you all–21c certainly did not disappoint!
Outfit Details from above picture:
Poncho || Tank, similar || Leggings, similar
Nikes || Sunnies || Purse || Phone Case
Suitcase Set (3 of them for SUCH a good price)
Our room and bathroom were both so nice!  The hotel is located in the old First National bank building which is so unique and gives the museum a lot of character–it was Lexington's first sky scraper! However, in contrast the rooms sleek and modern [love!] with lots of white and natural light and then there's an added a vintage flare with a colorful velvet couch and cushions and don't forget the signature penguin!  The Kentucky Wildcat fan in me loves that 21c made them blue for our city!
Have you all ever done a staycation in your city?  I hadn't before and I have to say, I now fully understand why people do this.  It's actually a great idea!  Don't get me wrong–I love to pack up and head out of town on a big trip but during the week before we planned to stay at 21c I realized just how much fun a smaller stay close to home could be too.  I was thinking–Ooh, I'm really excited to have the "vacation" feel for  a couple days without the hectic hustle of getting ready for a trip beforehand.  I wasn't stressed about packing or forgetting anything and we didn't even have to make arrangements for our animals to be taken care of (bonus).  This made it easy to head over to the hotel and start enjoying all it has to offer!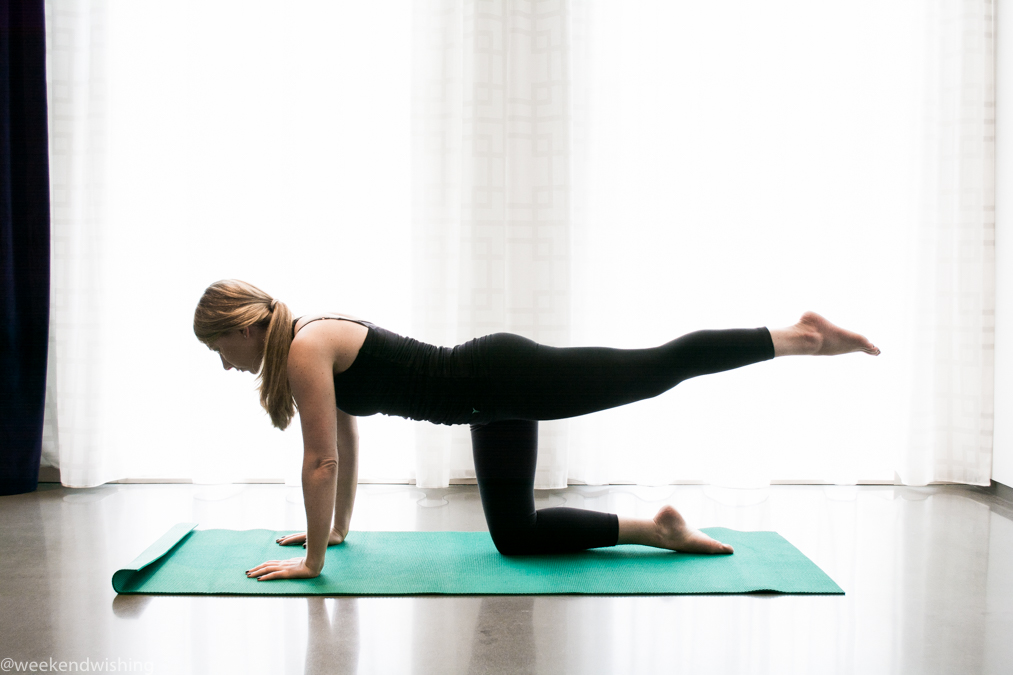 First things first.. after checking in I headed straight to a Barre Meets Bar class that the museum hosts on Saturdays.  And yes, you read that right.  The museum hosts a barre exercise class in one of the large art galleries and after the class is finished one of the hotel staff members bring up a tray of glasses filled with mimosas!  The class is taught by an instructor from Elle Fitness and on Saturday the owner Leigh-Ann had our class and let me tell you, she kicked our booties!  (So much so that I decided I had to start going back to her studio regularly.)  There's nothing better than getting in a good workout in the morning and then remembering it's still the weekend when you're finished–well, I take that back.  It is actually better when you're surrounded by interesting art pieces and you're handed champs after!  The hotel also offers a yoga class on Sunday.  How unique, right?
After the barre class we headed downstairs to grab some brunch at Lockbox–so yummy!  I ordered some homemade donut holes with chocolate, salted caramel & lemon cream cheese sauces for dipping.  Totally negated my workout with that one I'm sure but I don't even care.  TOTALLY worth it!
We spent the afternoon and evening wandering around the museum taking in all the art and then did some lounging before dinner.  The pieces they display are so unique.  Definitely ones that will make you want to take a second look and then discuss with someone.  The galleries are open to the public 24/7 so if you're in town you have to swing by and grab a cocktail and mosey around! Oh, and be sure to use the restroom on the ground floor.  Sounds strange I know, but they have built in a really cool feature that you don't want to miss!  [Watch our video to see!]
Outfit Details from above picture:
Purse || Necklace || Ring || Ring
That evening we headed down to a late dinner at Lockbox and enjoyed great cocktails and entrees.  And guess who joined us at the table… a little blue penguin of course(we named him Russell)!  The staff is so attentive and knowledgeable on the menu. Ethan had the Kentucky Silver Carp and our waitress not only told us how it was made but also the origin of the fish.  It was really refreshing!
Oh and then we wrapped up our stay with breakfast in bed on Sunday, duh!  I was loving it–and these comfy pajamas.  All in all, definitely a weekend for the books!  We made a short video recap as well.  Be sure to check it out!  Let me know if any of you all have stayed at a 21c.  I'd love to hear about your experience too!